April 27, 2021
The digital landscape has quickly evolved during the COVID-19 pandemic.  In response, consumers are becoming more comfortable with using new technologies that enable a better online experience. By understanding the importance of authentication, many financial institutions are adapting quickly to create better digital experiences that meet consumers' needs. However, rising occurrences of digital fraud and identity theft are highlighting the need for more advanced and higher-level authentication factors when onboarding customers digitally.
According to Javelin Strategy and Research's 2021 Identity Fraud Study: Shifting Angles, consumers are willing and eager to accept some degree of friction during the onboarding process. In exchange, they expect more secure, continuous identity authentication and protection in their business interactions with a brand.
Demand for fast, yet accurate, identity verification solutions is rapidly growing. It goes to say that when it comes to protecting consumers against fraud, access to an easier onboarding experience doesn't necessarily mean better. We'll take you through the impact of fraud on consumers, and how secure biometrics can help improve your business's onboarding process.
Watch Mitek CMO, Cindy White's new video on 2021 Identity Fraud Trends
Rising instances of fraud
Robust digital onboarding processes are more important now than ever before. In the wake of COVID-19, more industries have found themselves unexpectedly pivoting to a digital-first reality where data and personal information is a hot commodity.
However, industries less prepared for this virtual shift have experienced the largest increases in fraud. Spikes in new account fraud are particularly prominent in businesses and industries that traditionally use non-digital onboarding, such auto loans or mortgages.
Results from the Javelin report show that in 2020, car loan fraud increased by 15%, and primary mortgage fraud increased by 10%. It's clear that there are vulnerabilities and gaps in the origination process. The transition to remote loan processing has opened the door for criminal activity, especially in situations where remote originations are deployed quickly and without thorough consideration for online fraud detection and identity verification.
Balancing positive client experiences with strong fraud detection solutions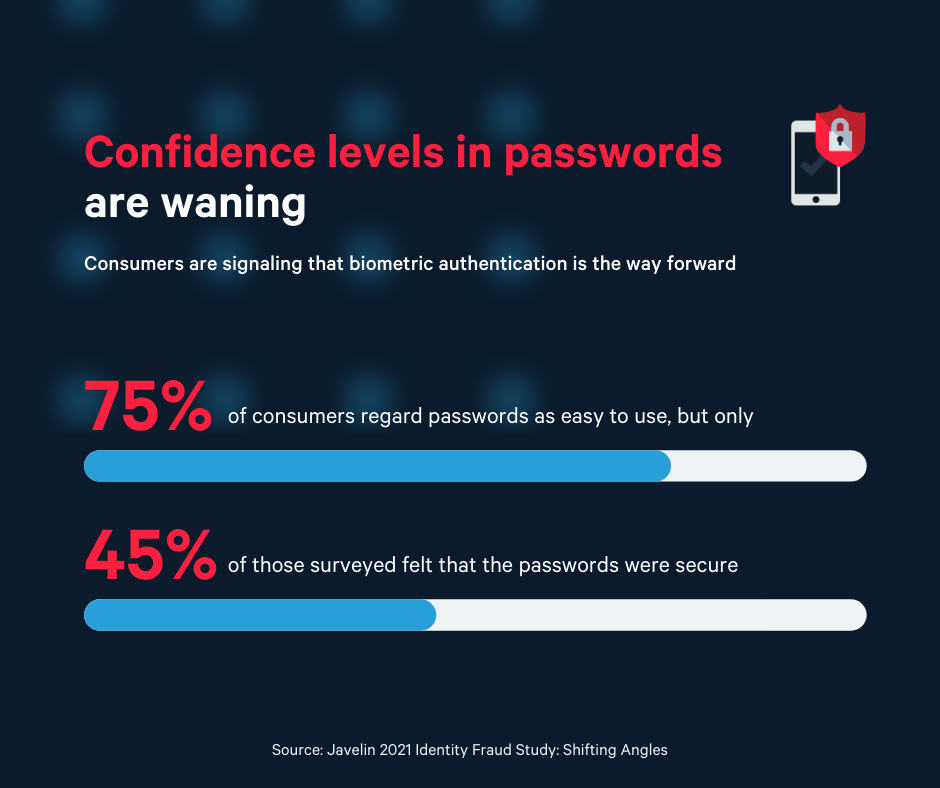 Consumers value a smooth, easy-to-navigate onboarding process. However, they have also highlighted the importance of balancing the client experience with effective fraud detection.
While password protection has been an effective and trusted authentication method for account verification and identity management over the last couple of decades, consumers' confidence level in the strength of password credentials is waning. While 75% of consumers regard passwords as easy-to-use, only 45% of those surveyed feel that passwords provide enough access security. This represents a 10% decrease from 2019.
While enterprises should strive for a seamless and positive client onboarding experience, it is crucial that enterprises also effectively minimize the risk of fraud. Negative experiences for consumers can have major consequences for organizations. Javelin's 2021 Identity Fraud Study: Shifting Angles report indicates that customer turnover resulting from a poor fraud resolution experience is a top fraud trend for 2021. One-third of consumers who have been victims of fraud have ended up closing their accounts related to the instance of fraud. The number has grown to 38% for those unsatisfied with the financial institution's resolution of the fraud.
The impact of fraud on the lives of consumers continues to grow and should not be taken lightly. In 2020, 33% of fraud victims indicated fraud had a high impact on their lives — a dramatic increase from 24% in 2019. The negative effect on consumers can result in dramatic consequences for businesses, regardless of the industry. The resulting decrease in consumer trust and loyalty can ultimately affect sales.
The shift towards biometric authentication for onboarding
As consumers become more informed about fraud risks and access management during their online interactions, many are beginning to gain increased trust in biometric authentication. According to the Javelin report, 64% of consumers trust biometric authentication, specifically fingerprints (66%), facial recognition (63%), and retinal scanning (62%), over one-time passcodes (52%) and knowledge-based authentication (43%).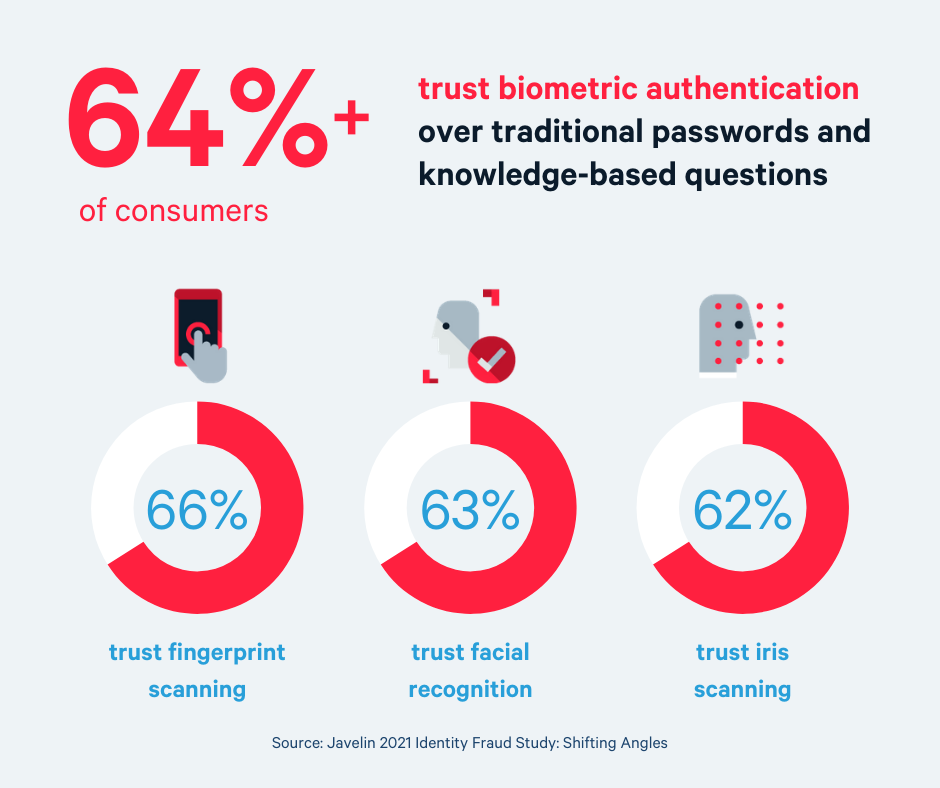 Understanding that passwords alone no longer offer strong enough protection, consumers are clearly signaling that biometric user identification and authentication is the way of the future. Biometrics provide a layer of security that's incredibly difficult to penetrate, thereby lessening the likelihood of fraud.
Stringent identity authentication management is no longer out of the ordinary in onboarding processes. Consumers are not only willing to accept some level of friction to reduce instances of fraud — they are expecting it. In 2020, 53% of consumers took a picture of their driver's licenses as part of their account-opening and authorization process, and 46% uploaded a selfie as part of a "liveness" verification process step. Those two actions are often married as part of the digital identity-proofing process that proves the authenticity of identification and the presence of the actual applicant.
Fraud detection and prevention for your business
Investing in fraud prevention solutions, such as cloud service biometric identity verification and user authentication, is key to mitigating risks of fraud for your consumers. However, fraud prevention can go beyond robust identity verification. Businesses should also explore increased use of device trust, identity data, and behavioral analytics as fraud prevention solutions.
A suitable onboarding process that delicately balances the needs of your consumers can help them gain digital trust in your organization and its handling of their personal information and data. While additional steps for multi-factor verification may have previously been viewed as disruptive, it's clear that consumers are willing to absorb the additional friction to feel safe and secure in their business relationships. Consumers are ready to embrace these added steps, so now is the time for businesses to explore new technologies and cloud applications that will enhance their fraud detection systems.