April 5, 2021
Over the past several years, consumers have steadily been shifting to a digital-first way of life as online activities and transactions become more accessible and convenient. To take advantage of the market growth, financial institutions have significantly focused on improving their digital customer experience in efforts to attract and attain online audiences, especially during the COVID-19 pandemic. 
However, as consumers and businesses get more comfortable with navigating the digital world, fraudsters are becoming just as adept at finding ways to take advantage of these online trends. According to the Javelin 2021 Identity Fraud Study: Shifting Angles, there was $56 billion in combined losses from identity fraud & identity fraud scams in 2020, accompanied by a significant increase in identity theft scams.
In this video Mitek CMO Cindy White presents key insights from Javelin's newest report, 2021 Identity Fraud Study: Shifting Angles.
Financial institutions should expect to see criminal activity and fraud continue to evolve over the next year and beyond. One of the best ways for organizations to protect themselves and their users is by staying on top of the current trends in fraud (such as learning the answer to "what is check fraud?") and fraud detection. To help inform your strategy for staying ahead of fraud, we'll discuss some of the current fraud trends for 2021 based on the Javelin Identity Fraud report, including:
Greater consumer acceptance of biometric authentication
Increased client turnover after experiencing fraud events
Growing fraud for P2P transactions and digital wallets
Fraud trend #1: Rising consumer confidence in biometric authentication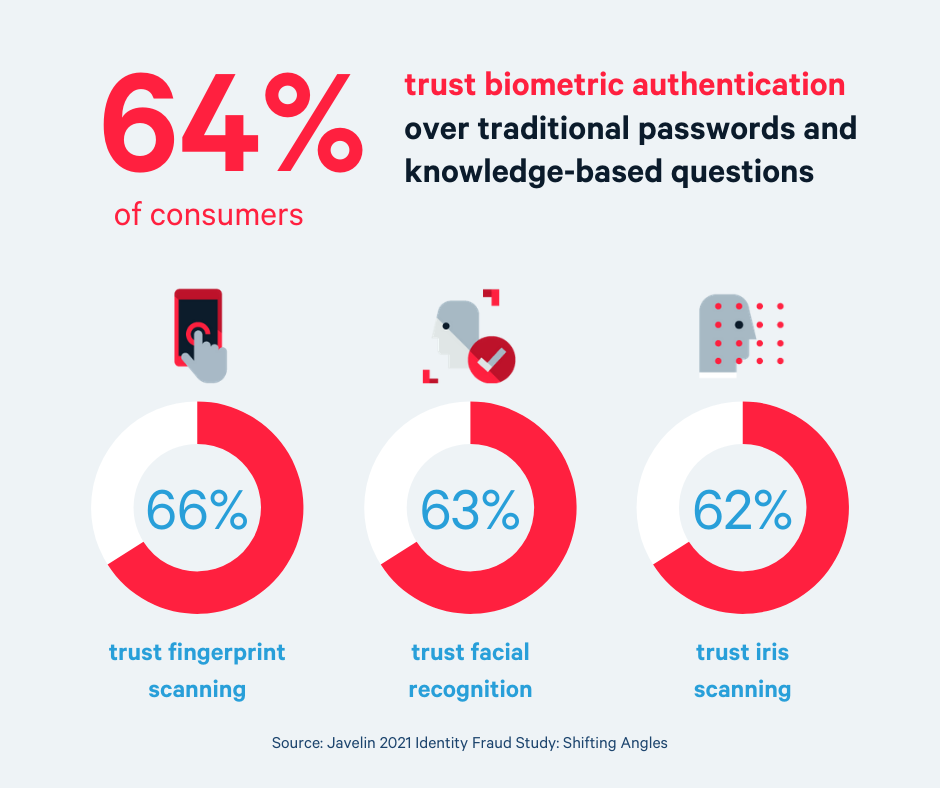 While consumers are familiar and comfortable with the traditional use of passwords for authentication, confidence in the security of this measure is waning. The attention has shifted to biometric authentication as a stronger alternative as approval for passwords plummeted 10% in 2020. As consumers become more aware of the fact that passwords alone are not enough to effectively secure accounts, support is growing for fingerprint scanning (66%), facial recognition (63%), and iris scanning (62%) as the most effective ways to validate identity.
Businesses can instill stronger confidence into their customers by leveraging continuous biometric authentication for reducing fraud risk. These fraud security measures can be used from beginning to end across all digital platforms to help continuously authenticate transactions. Any fraudsters who are able to penetrate poor password management can be halted by the use of device trust, identity, and behavioral analytics.
Fraud trend #2: Higher client turnover from poor fraud resolution experience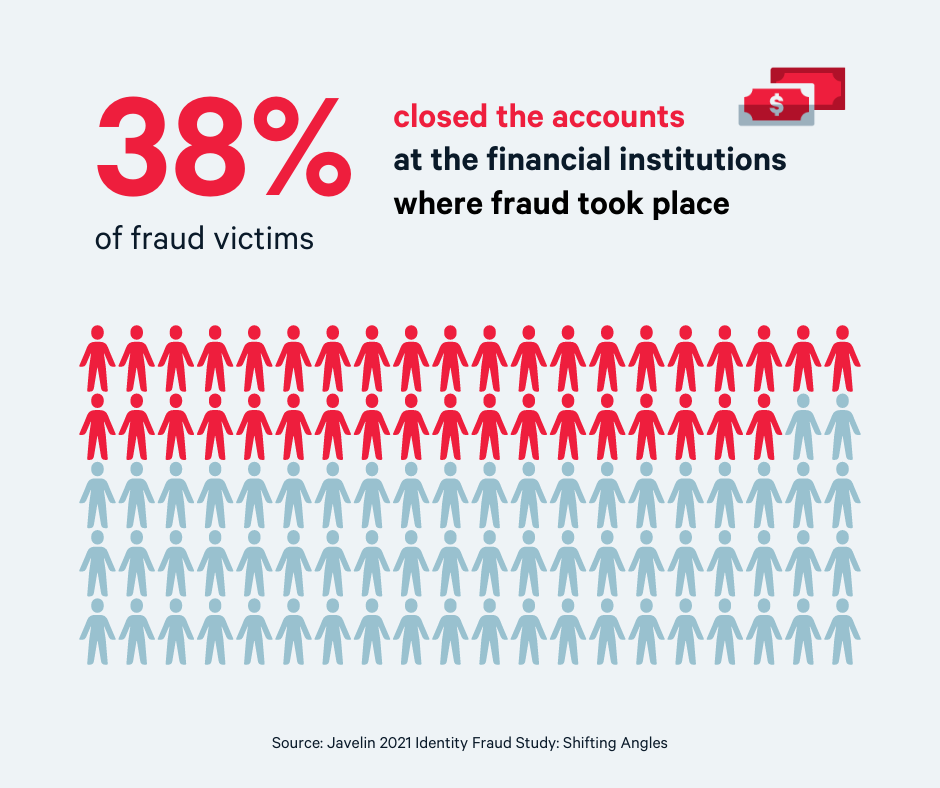 Across all industries, when businesses provide a poor customer experience, they end up losing consumer trust, brand loyalty, and ultimately, sales. Financial institutions are no exception, especially when it comes to resolution for account takeover fraud. In fact, only one-third of victims of fraud attacks were completely satisfied with how their financial service provider resolved their identity fraud issues. The average cost of identity fraud per consumer increased $3 (USD) in 2020, and consumers spent an average of 12 hours trying to resolve their issues. Consequently, 38% of identity fraud victims ended up closing the bank accounts where the fraud took place as a result of a poor resolution experience.
To improve the customer experience related to fraud resolution and fraudulent activity, communication is key. Businesses can be more transparent to customers about how their identity fraud is being handled. Financial service providers can publish content on their customer-facing channels that provides remediation tips, as well as what to expect when fraud claims are processed. In addition, a client notification process can be set up that includes leveraging existing account alert technology via email and SMS/text. This will help set expectations and avoid assumptions on what's required by both parties to find the smoothest and most effective resolution.
Fraud trend #3: Increased fraud risk in digital wallets and peer-to-peer payments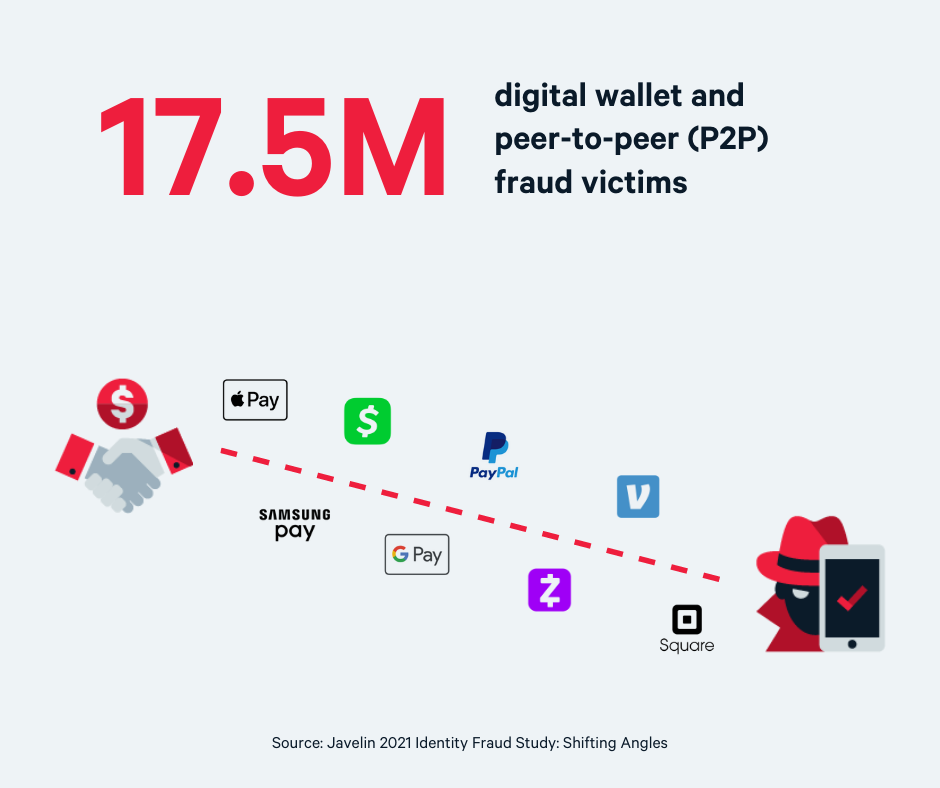 A third fraud management trend pertains to digital wallets and peer-to-peer (P2P) payments. Identity fraud scams claimed 17.5 million digital wallet and P2P fraud victims. Victims of stimulus-refund-related fraud, unemployment money mule scams, and identity fraud scams all owned digital wallets like Apple Pay and Samsung Pay, and P2P products like PayPal, Square, and Zelle. 
A lagging investment by financial institutions into payment fraud management tools and a misunderstanding about who is responsible for P2P fraud are cited as contributing factors toward the increase in P2P fraud attacks. Stabilizing this fraud trend requires a mix of increased user identity validation, anti-money laundering (AML) programs, and transparency into the users and funds being moved across networks. Additionally, many consumers access sensitive transactions through browser-based mobile banking tools. Financial institutions should make a concentrated effort to educate those consumers to only be using branded mobile banking apps that feature advanced encryption against fraudulent transactions.
What these 2021 fraud prevention trends mean for your business
As we continue to navigate an ever-changing digital ecosystem, it's imperative that businesses stay nimble and keep their pulse on current fraud trends in banking. To alleviate some of the confusion and stress consumers are experiencing, organizations should focus on providing better education and expectation management for customers. By embracing stronger fraud detection solutions such as behavioral biometrics and biometric identity verification, financial institutions can mitigate the financial losses for their customers, and thereby, the loss of current and prospective customers.
For more information about fraud trends, check out our series of articles: