March 4, 2021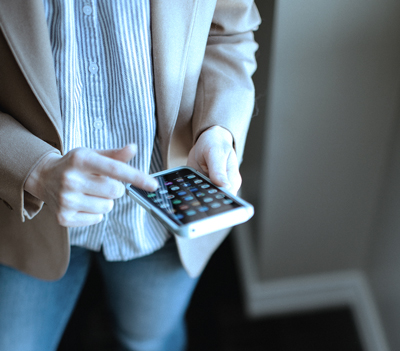 In today's world, accurately verifying people's identities during digital transactions is one of the hardest challenges companies can confront. It is also one of the most important.
To combat fraud and fakes, companies need to verify the identity of customers when they open new accounts. They need to ensure online transactions and the delivery of their services are safe and secure.
That's where Mitek and its partners come in.
Partnering with other companies is a part of its business that Mitek highly values. In fact, in a recent earnings call, CEO Max Carnecchia says he anticipates the company's partner channels will become "an even bigger part of Mitek's business."
Together, Mitek and its partners craft solutions that make life easier for customers, while reducing risk for companies doing business online.
Here are a few recent examples:
Remote check deposit. For 10 years, long before the pandemic, Mitek was partnering with financial services companies to enable accountholders to remotely deposit checks. Mitek is trusted by nearly 100% of top U.S. banks due to this early innovation in the digital space.
Secure, text-based transactions. What if your business could digitally transact with its customers without having to download an app? Mitek's partner, Lightico makes that possible. Via text message, businesses can instantly collect forms, documents, e-signatures, photos and payments, consent to disclosures and verify identities, even while the customer is on the phone.
Online notary services. Remote notarization became an essential service for businesses and people to transact online during the pandemic. Mitek is honored to support these transactions. Mitek's partner, KYS-Tech offers companies a comprehensive, secure and verifiable online notarization and identity-verification system that meets the most stringent standards across all industries.
Online hotel check-in. Mitek's partner, Agilysys is changing the way people check into a hotel room. Agilysys' rGuest® Express Mobile, with Mitek's Mobile Verify® technology, allows guests to securely check into their hotel room remotely without stopping at the front desk. Contactless check-in is proving to be a particularly popular differentiator as people begin to travel again more widely after the pandemic.
Mitek works with three types of partners:
Integrator: In this model, Mitek's solutions are embedded into a partner's products and services. Integrator partnerships allow companies to use a proven technology, with Mitek implementation support, to provide secure services to their customers.
Reseller: Mitek handles the pre-sales and integration activities alongside our reseller. This type of partnership allows businesses to work with a trusted identity verification leader.
Referral: Mitek welcomes partners who may not have expertise with document verification technology, but are in a position to send qualified opportunities to one of the industry leaders.
Mitek invests in its partnerships with a robust marketing, professional services and partner success program. Included in Mitek's global partner program: events, a partner portal, thought leadership initiatives, and pre- and post-sales support.
Mitek's partner program is fueled by a commitment to making life safer and more convenient online while also reducing a company's risk. When fighting fraud, we are better together