April 23, 2021
Businesses adjust marketing and sales tactics all the time to target different customer demographics. Likewise, fraudsters have also taken this approach to conduct consumer fraud. The online fraud landscape is full of specialized types of targeted attacks (sometimes involving Deepfakes and synthetic media) against certain populations, referred to as generational fraud. Fraud and identity theft is no longer a one-size-fits-all approach. 
While technology has become a core part of our daily lives, it's evident that different generations interact with technology in different ways. Fraudsters have become extremely proficient in understanding the inherent behavioral differences between different generations. By tailoring their tactics, they're able to reach a larger number of victims quicker and more efficiently. Strategies are very specific in how and when they approach their victims to scam them.
The various ways fraud victims are attacked vary by generation. According to the Javelin report 2021 Identity Fraud Study: Shifting Angles, millennials experience financial crime more often through text scams promising rewards, or peer-to-peer (P2P) transfer confirmations. Boomers, on the other hand, have a higher chance of receiving robocalls disguised as healthcare providers, or as the infamous car warranty update scheme. Scammers understand that they're able to achieve higher success when using mediums that are more familiar to their targeted victims.
Read more about generational preferences for identity verification and avoiding fraud 
In this article, we'll go through the various types of fraud tactics that fraudsters are using to attack different generational demographics, and the effects of financial fraud on your business.
4 types of generational fraud victims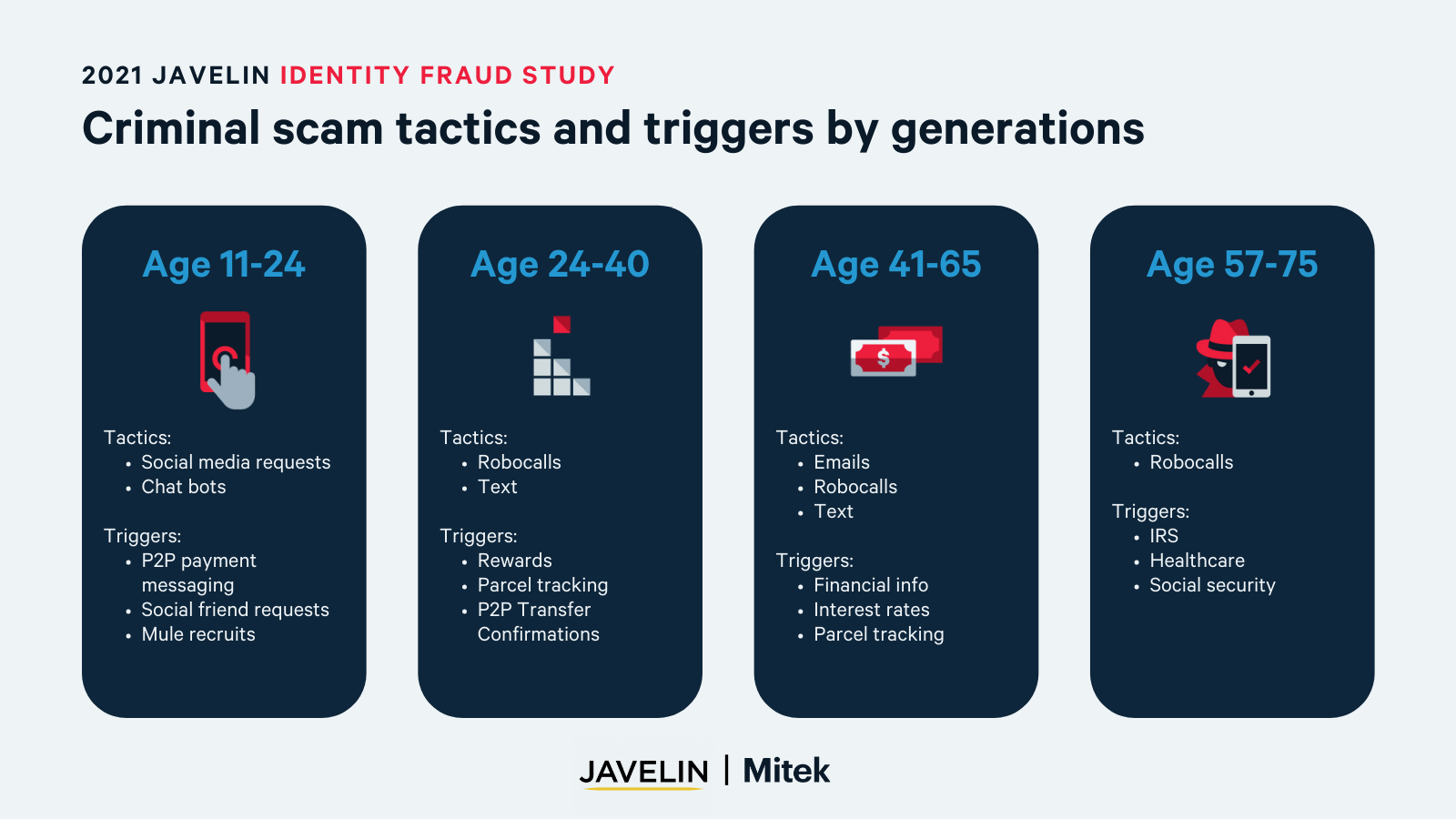 1: Gen Z
With a demographic ranging from ages 11 to 24, Gen Z is the youngest generation to be targeted by scams. This age group has been exposed to technology from a very young age, so fraud tactics are executed in more innovative, technologically-savvy ways than traditional methods. Cyber criminals targeting Gen Z victims typically use tactics such as social media requests and chatbots to engage with their victims. They're then prompted to make P2P payments like Paypal, Square, and Venmo, unknowingly acting as players within money mule networks.
2: Millennials
Millennials have also been exposed to technology for the majority of their lives, so they're generally comfortable with digital interactions. However, millennials tend to experience identity fraud at greater levels than other generations. According to the FTC, Millennials are 25% more likely than Gen X and Baby Boomers to report losing money to fraud.
Fraud victims of this generation, ranging from ages 24 to 40, are more likely to encounter fraud through robocalls and mobile texts. They're more likely to fall victim to the incentive of a reward or transactional communications, such as parcel tracking or P2P money transfer confirmations.
3: Gen X
People who are between the ages of 41 to 65 are classified as Gen X. Although they didn't grow up with modern day technology from an early age, they tend to have a considerable amount of experience using technology. However, the range of digital services that they're comfortable using is much more narrow than that of Millenials and Gen Z. Some common fraud tactics used to engage with Gen X include robocalls, SMS/texts, and emails.
Fraud victims within Gen X are more likely to be vulnerable to triggers such as financial information, interest rates, and parcel pickup. Criminals frequently tap into these vulnerabilities to conduct scams and other criminal activity.
4: Baby Boomers
Fraudsters tend to target Baby Boomers, which includes adults aged 55 to 75, through more traditional methods. Older Americans and Baby Boomers are more likely to respond to tactics such as robocalls, while younger generations are easier to reach through other forms of technology and communications. Some common triggers that target Boomers include scams related to the IRS, healthcare, social security, credit cards, and consumer warranties.
Generational fraud in financial industries and beyond
Younger generations are generally more comfortable using digital wallets and P2P methods, making them more likely to be victims of fraud in the digital financial services industries. Identity fraud scams claim nearly 18 million digital wallet and peer-to-peer fraud victims.
While every generation has varying degrees of comfort with the risks attached to using digital services, enterprises can provide multiple safeguards to prevent fraud. Adopting identity verification solutions will ensure these trusting consumers are protected from vulnerabilities.
Falling victim to fraudsters means organizations risk losing revenue, brand reputation, and customers, especially if the customer experience is poor during the resolution stage. In fact, 51% of P2P and digital wallet consumers who experienced fraud were required to pay some of the fraud money, and only one-third of fraud victims felt satisfied with their fraud resolution.
While attention is heavily paid to fraudulent activity within financial institutions, non-financial industries are also at great risk, and consumers can easily be scammed. More recently, cybercriminals have focused on stealing consumer credentials to log into accounts across non-financial technology services and commit fraudulent transactions. For example, younger generations are increasingly being targeted through food delivery services such as Grubhub, Instacart, and UberEats. These types of scams accounted for 18% of all non-financial account takeovers in 2020.
Mitigating generational fraud
Fraudsters are quick to understand generational consumer trends, especially during the pandemic, and use that knowledge to their advantage. Successful fraudsters are familiar with the behavioral patterns of their targets. They understand when people are most vulnerable and let their guard down.
In addition to embracing fraud detection solutions and identity verification, financial service providers should also commit to providing better fraud-related education and resources to their customers. Not all fraud tactics are the same or easy to spot, so each generation needs to understand where they are most exposed to risk.
The onus is on businesses to ensure that the risk of customer fraud and identity theft is minimized. By prioritizing initiatives to avoid generational and other types of fraud, financial institutions can foster digital trust through increased fraud prevention, and better manage expectations for current and prospective customers.
Learn more about digital identity and fraud in the 2022 Gartner® Hype Cycle™ for Digital Identity report