January 13, 2022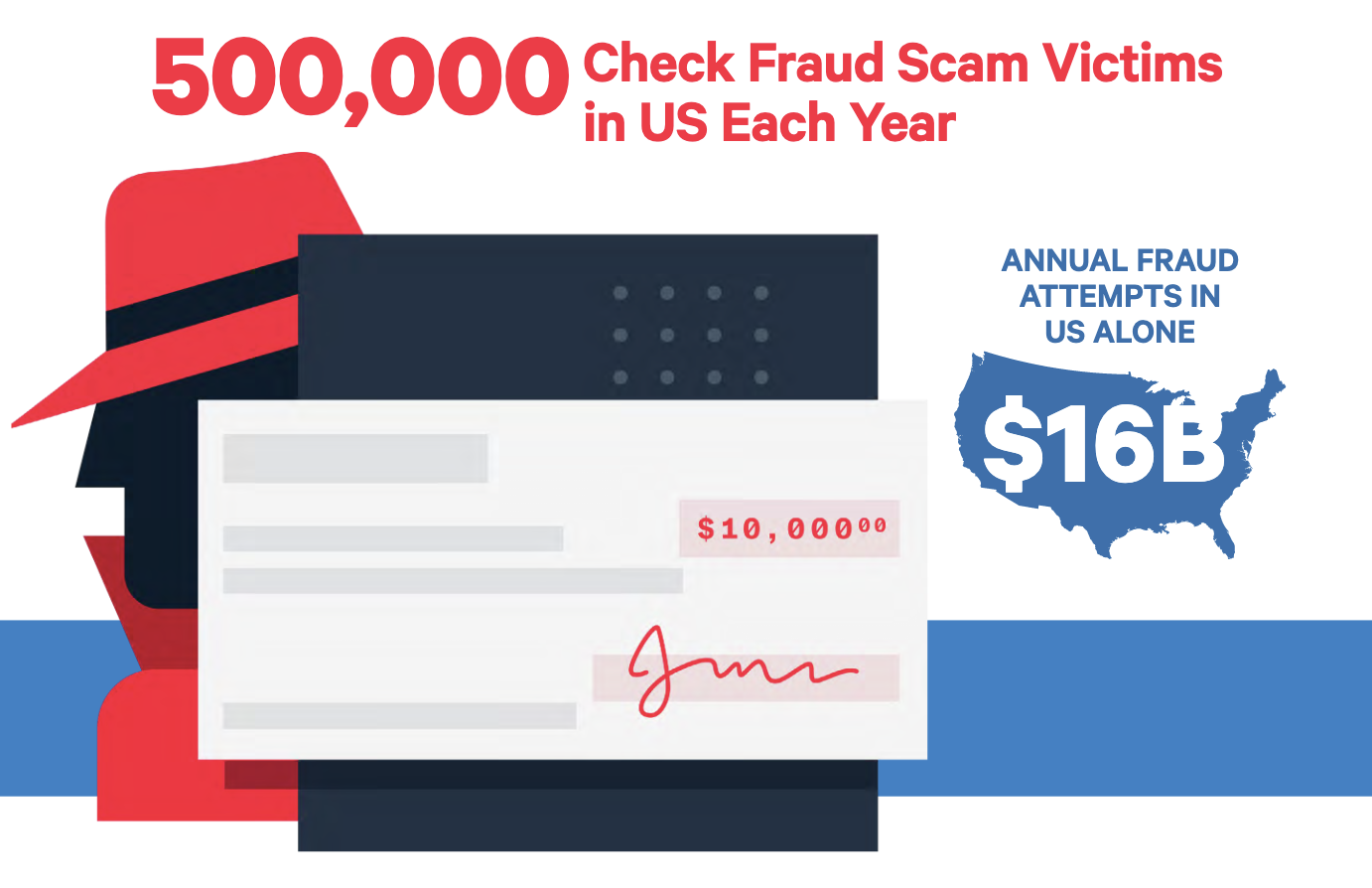 In the Association for Financial Professionals report 2021 AFP Payments Fraud and Control Survey, checks are the payment method most impacted by crime and fraud activity. Sixty-six percent of survey respondents say checks are subject to attempted or actual payment fraud. Regardless of whether or not strong check verification systems are in place, the rise in check fraud statistics continues as fraudsters become more advanced in their crimes, especially with more customers now using digital checks. With a reported 500,000 check fraud scam victims in the US each year, check fraud attempts increased to $15.1 billion in 2018—up from $8.5 billion in 2016—and accounted for 60% of attempted fraud against deposit accounts at U.S. banks, according to the American Bankers Association.
Check tampering and billing schemes account for the biggest threats. Banks and other financial institutions face a heightened risk of these losses, so having tools in place to protect your business is essential. In this article, we'll take you through how check fraud works, and what financial institutions can do to ensure they and their customers don't fall victim to fraud.
Check Fraud Definition
Simply put, check fraud refers to using paper or digital checks to obtain money illegally. This can include someone writing a fraudulent check on their own account, forging a check in someone else's name, or drafting a completely fake check. But it can also include countless other types of fraud using checks. Check fraud may be committed by your customers, or your customers may fall victim to a fake check scam. Some of the most common forms of fraud include:
Paperhanging — When someone purposefully writes bad checks from their own account.
Check kiting — When someone writes bad checks from their own bank account and deposits them in another financial institution.
Check floating — When someone writes a bank check to another individual but has insufficient funds in their account. This is to take advantage of the few days that the bank holds the check before depositing.
Check forgery — When someone forges an account holder's signature to create a fraudulent check.
Check theft — When someone uses a stolen check from another account holder.
Identity check theft — When someone opens an account in someone else's name and writes checks from it.
Chemical alteration — When a scam artist uses chemicals to erase the ink on a check so they can write something else.
Counterfeiting — A counterfeit check scam is when a frauster creates checks using someone else's checking account information.
Synthetic checks —

When a criminal takes a known routing and account number, but use different payor info from the top left of the check.

Money order fraud — When the fraudster convinces the victim to give them a check in exchange for a fake money order.
New Forms of Check Fraud
With consumers continuing towards the digital realm for many of their banking transactions, fraudsters are being quick to exploit these channels. Banks are becoming more and more sophisticated in the check fraud solutions they offer to customers. Unfortunately, it also follows suit that criminals try to take advantage of these new tools and services for fraudulent activity. Two areas of particular concern are tools used for mobile check deposit, also referred to as remote deposit capture, and more recently, fraud pertaining to COVID-19 economic impact payments.
Mobile check deposits allow customers to save time by enabling them to deposit checks remotely, at any time. While this helps create a more streamlined customer experience, the key for financial institutions is to also find equal footing in mobile check fraud prevention to ensure customers and business operations stay protected from fraudulent activities.
Technologies that Help with Check Fraud Protection
Advanced technologies are available that can help banks effectively navigate the balancing act between convenience and safety. However, it's important to note that, while various check fraud solutions can catch many types of check fraud, they can also trigger tedious manual processes and false positives. This costs financial institutions a lot of time and money for additional analysts and custom data science platforms.
A solution to combat these check fraud challenges is Mitek's premier AI-powered and cloud-hosted model, Check Fraud Defender. The technology reduces the number of checks routed for manual review, and traditional check fraud risks associated with synthetic and account fraud, forged checks, and theft. Check Fraud Defender also has the ability to analyze checks deposited from all channels – mobile deposit, in-branch and ATMs.
Check fraud will continue to be a significant channel for fraudsters to take advantage of consumers and businesses. Taking advantage of high-tech solutions can help banks and financial institutions reduce the tangible and intangible costs that come with fraud and identity theft. Combined with continual consumer education on how to prevent check fraud, financial institutions can work hand in hand with customers to strengthen its protection against fraudsters, protect the brand reputation, and be more proactive instead of reactive.
Learn more about solutions to combat check fraud