July 14, 2022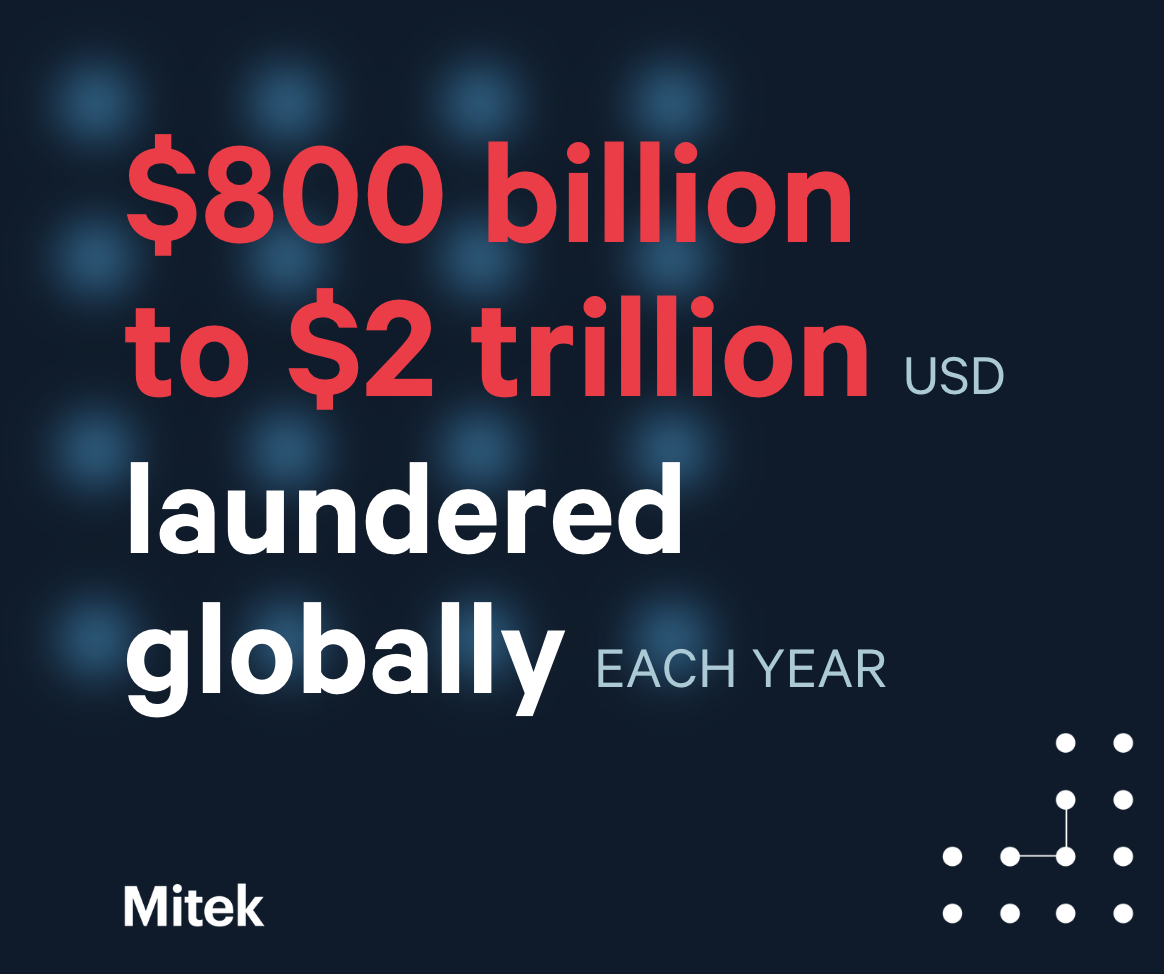 Every year, it is estimated that $800 billion to $2 trillion USD is being laundered globally—that's 2-5% of the entire world's GDP. Banks and financial institutions are some of the most common channels for this type of criminal activity, as well as other forms of illegal activities, like terrorist financing. As a result, several layers of anti money-laundering (AML) techniques need to be employed to deter, detect, and protect against financial crimes.
One requirement that all financial services have traditionally adhered to is the practice known as Know Your Customer (KYC). It involves verifying a customer's identity according to legal requirements and federal and state laws and regulations. In recent years, governments and authorities have put in place strict standards for financial institutions, including the Fifth Anti Money Laundering Directive (5AMLD) and the Electronic Identification, Authentication and Trust Services (eIDAS) regulations. Each regulatory requirement has been created to provide a reliable and consistent framework for ensuring the security of the KYC process.
However, KYC compliance is quickly becoming a practice that many other industries and businesses—not just those in the finance sector— will soon have to implement for themselves. Thanks to the rapid acceleration and improvements in technology, companies around the world are streamlining the way they do business by migrating to a digital-first approach for customers and employees. 
While this paves the way for several product innovations, it also opens up new avenues for fraudsters to commit financial crime such as money laundering, identity theft, synthetic identity fraud, bank account takeovers, data breaches, and terrorist financing. This broadens the scope of online criminal activity, as well as the responsibility of corporations to combat these activities and protect their customers. 
The challenge will be for companies to build a customer onboarding journey that is fast and simple while still being effective in protecting against criminals. This is incredibly important for companies to get right because the onboarding journey is what ultimately makes or breaks a good customer experience and sets customer expectations. 
                                               Explore how Mitek's verified identity platform can help your business with KYC
KYC is becoming a requirement for all types of businesses— not just banks
KYC verification is all about making sure that your customers are actually who they say they are and giving them access to the services or products they need. This can be done in many ways. For example, when someone applies for a new credit card or savings account, a KYC check can be as basic as asking for proof of address or supplementary identity documents. 
While this is especially relevant for financial and banking services, as well as related sectors like insurance, real estate and trading, KYC requirements are increasingly becoming necessary for almost all online transactions. Newer industries that have seen a significant uptick in fraud now need KYC to help mitigate these attacks. 
The following are some key sectors where KYC is gaining traction:
Online gaming and live streaming
Most popular online gaming platforms now feature their own digital economies and currencies, where players can make in-game purchases using real money. This means a plethora of personal information and financial data live within these platforms. Fraudsters know this and aggressively try to exploit any weaknesses in the system. 
A report by Akamai Technologies stated that cyberattacks targeting the video game industry grew more than any other industry during the COVID-19 pandemic, with more than 240 million web application attacks in 2020 alone. That's a 340% increase from cyberattack rates just a year prior. Personal data and identity theft, in-game gambling and corruption, and the use of stolen cards are just a few examples of the types of crimes that can occur in these online platforms.
One notable case involves the giant live-streaming company, Twitch. They were used by a money-laundering ring based in Turkey to steal $10 million USD over the course of two years. The scheme involved the participation of 2,400 Turkish streamers, mostly young people, who were propositioned by fraudsters to receive stolen money in the form of Bits— Twitch's online currency for donating to livestreamers. Once they received the donation, streamers would then refund it through various bank accounts, keeping a small cut for themselves. Authorities only caught on to the scheme when they noticed that these lesser-known streamers were receiving donation amounts that were disproportionate to their small audiences.
Gaming studios must now prioritize combating fraud and criminal activity on their platforms. One of the best ways to do this is by knowing their customers. In the case of Twitch, for example, implementing stronger KYC practices when users purchase or donate in-app currency could have helped as anti money laundering protection. 
By developing ways to verify a player's profile and activities, gaming companies have what they need to differentiate real, legitimate players from fake, nefarious fraudster accounts that are built on stolen information and engaging in suspicious activity. 
Gambling services
Whether it's playing casino games, poker, or sports betting, the business of online gambling is growing rapidly. It has become easier than ever to play these games via smartphones or apps, and their reach has expanded to almost every region in the world. The current market is valued at nearly $59 billion USD, and is expected to reach $92.9 billion by 2023. 
With its increasing popularity and high volume of transactions taking place each day, gambling sites are enticing hotspots for fraudsters to focus their attention towards. According to TransUnion's 2021 iGaming Report, identity tends to be the prime source of fraud in online gambling. In fact, there was a 43% increase in online gambling identity fraud in 2021 alone.
Some common online gambling scams include multiple account fraud, bonus abuse, gnoming, chip dumping, stolen credit cards, chargebacks, and phone top up abuse. Additionally, as with any business that processes large sums of money, online gambling sites must be careful not to unknowingly assist money laundering activity. The consequences for high-risk online gambling businesses are severe if they succumb to fraudsters. Not only do they experience a loss of revenue and resources, they also face fines for failing to comply with regulations, sour relationships with payment processors, and disintegrate customer loyalty and trust.
Conducting customer due diligence by implementing KYC practices and ID verification along every step of the online journey will help gambling businesses minimize risk, monitor player activity, flag issues, and respond to them immediately.
Alcohol industry
Underaged drinking continues to be a significant problem in the US. According to a study published in the Journal of Studies on Alcohol and Drugs that used national data on self-reported adult and underage drinking from the US Centers for Disease Control and Prevention and other sources, an estimated $17.5 billion USD of beer and liquor sales in the United States in 2016 was consumed by minors. Products of three companies -- AB InBev, Molson Coors Beverage Co. and Diageo -- accounted for nearly 45% of underage youth consumption. 
So why is this happening? The Foundation for Alcohol Research and Education's Annual Alcohol Poll found online alcohol retailers were not routinely checking IDs during deliveries, and sometimes even leaving products unattended. This has raised several concerns for those working in the public health sector. Many are rallying for stricter regulations for alcoholic beverage companies, distributors, and point-of-sale retailers to do their due diligence when it comes to customer identification. 
KYC obligations would require companies to verify a customer's age before they make any purchases. There also needs to be robust infrastructure that can detect forged identity documents, which are very easy to make and commonly used by underaged consumers.
Travel sector
Travel companies lost $21 billion USD to fraudulent activity in 2019. There are many reasons why the travel industry is a prime target for fraud. The increased volume of travel, high value online transactions, and the sheer number of suppliers around the world create the perfect storm for cybercrime to occur. 
The most common types of fraud include stolen payment method details, cyberattacks on online booking platforms, and stolen security credentials. Receiving online payments from foreign credit cards, in particular, is associated with the highest customer risk for fraud. 
In addition to ticketing and payment scams, the travel sector also faces new forms of fraud that have emerged as a result of the pandemic. Vaccination documents, for example, containing verifiable information stolen from social media platforms, are being bought and sold on encrypted messaging platforms. In 2020, gift cards topped the list of fraudulent payment types, perhaps owing to the fact that they served as convenient gifts for those who couldn't visit families in person. 
Mobile transactions also add an extra layer of complexity when it comes to detecting fraud because geolocation matches can no longer be the sole metric for fraud risk assessment. Instead, merchants now need to apply multiple authentication factors to verify customer identities safely.
Emerging industries
There are also a few other emerging industries that are becoming more vulnerable to fraud, so implementing KYC and identity verification technology is of great benefit to those companies and their customers. For example, a growing trend for agricultural companies like John Deere is to provide financing to farmers for equipment, seeds, feed, and parts. KYC and IDV adds multiple layers of protection against financial fraud. 
For other industries, KYC and IDV help ensure the right people are being hired for the job. Transportation companies with high driver turnover rates go through high volumes of hiring, so they need an easy and accurate way of hiring people with the necessary skills and experience. Professions where adults are in a position of trust with children, such as teachers or caregivers, require a tremendous degree of hiring diligence. This also applies to working with seniors. Running checks to verify identity is imperative in order to protect any person that a hired individual comes in contact with. 
A comprehensive KYC solution exists
KYC is at the heart of the customer onboarding journey. It is what allows companies to enable and approve a financial transaction with the peace of mind that their customers and business are safe from illegal activity carried out by cybercriminals.
With Mitek's recent acquisition of Hooyu, we've created the most comprehensive customer identity verification platform that allows you to execute KYC processes at the most granular level, at every stage of the journey. Using our system, you can provide an exceptional and seamless customer onboarding that protects your business from fraud risks while complying with the latest KYC regulations and standards. We've developed a low-code-no-code mobile-centric journey that's been tested on millions of users and has saved our clients valuable resources. 
The digital explosion isn't slowing down anytime soon. Unfortunately, the same goes for cybercrime and fraudulent activity, especially in industries that have high volume and high-velocity transactions. By implementing KYC and using identity verification, biometric authentication, and identity document verification to prove that users are who they say they are, businesses can ensure the safety of customers' and their identity data. To learn more about a dynamic KYC solution, explore Mitek's comprehensive identity verification solutions.
                                                         See how you can onboard more quality customers faster with Mitek's new eBook