September 10, 2020
It's no surprise operating a Financial Institution (FIs) in the COVID environment has radically changed in the last 6 months, especially regarding the customer experience. People are nervous to go into physical banks - and in some places are prevented from doing so altogether. As a result, customers are rapidly adopting digital channels as their first step to onboard and interact with old and new FIs. 
In order to empower the financial industry with unique insights on the digital onboarding experience and security, Mitek partnered with PYMNTS to get an in-depth look at how today's consumers are interacting with FIs. The report provides data on consumers' changing habits around the digital onboarding process, how they plan to open accounts in the future, and what this means as the industry invests in a more holistic tools for the digital experience. 
Leveraging the datapoints from the study, Mitek has 3 important takeaways FIs should consider actioning in order to make their onboarding platform unique, secure, and match the client onboarding trends turning into habits. As a result, these items will provide a positive first impression of an FI that today's consumers are expecting, as well as limiting drop-offs to onboard more good people and fight fraud. 
Here's the top 3 most important takeaways: 
Consumers want contactless experiences, but that doesn't strictly mean online only
Your customers are real people, and they want real employees to interact with them 
Appropriately messaging and informing security efforts, especially relating to biometrics, will significantly reduce abandonment rates 
Read on for a break-out of each takeaway with relevant data and Mitek's recommendations.
Download the PYMNTS + Mitek report: FI's guide to improving digital onboarding
1. Consumers want contactless experiences, but that doesn't mean strictly online. Data from the report shows it's a must-have option for consumers to be able to interact with FIs digitally or in a contactless way; 54% said it is "very" or "extremely important" to be able to open or access accounts using a contactless method in the future. However, some people still want to go into a physical location to open an account, with 34% saying they prefer to open an account in-person.  
Mitek recommendation: contactless experiences are here to stay, and automatic hand-sanitizer dispensers are not the only technology that can make a physical business location safer. Some state-of-the-art banks use identity verification technologies on hand-held tablets to verify a person is who they say they are by taking a picture of an identity document without an employee having to physically touch the document. Not only does this digital authentication method provide compliance with KYC regulations and COVID health ordinances from a government, it improves assurance levels using technology to authenticate and validate with more certainty. This is a unique solution to appeal to those consumers who still want experiential in-person services, especially as social distancing lifts. But while everyone is still wearing a mask for the foreseeable future, digital identity verification is a unique solution to meet several onboarding practices both online and in-store providing safe and healthy interactions for those involved. 
2. Your customers are real people; don't discount using conversations or real-employees to interact with them.  As 60% of consumers plan to increase their use of opening accounts using only digital channels, they still want the ability to interact with actual human beings. Nearly 46% of consumers say that being able to talk to a live person during the onboarding process is "very important." 
Mitek recommendation: Try to find the perfect balance of a digital experience that optimizes processes and adds in a human element. Look to integrate a UX that supports conversational dialogue and human agents that emulate real-life interactions or can intervene on sticking points. One example: successful digital FIs around the globe have redefined the onboarding process to incorporate the best digital onboarding tools: a user downloads the FI app, which immediately opens up a chat stream with an AI bot. Everything, including identity verification (IDV), service delivery, notifications, reporting and assistance from human agents when requested, takes place within a conversational stream. With the chatbot constantly engaged in conversation with customers, and human agents joining the chat occasionally as well, the company has a rich stream of data, analytic insights and anecdotes about the challenges users are dealing with and what they care about, while providing a human digital experience that's important to the user.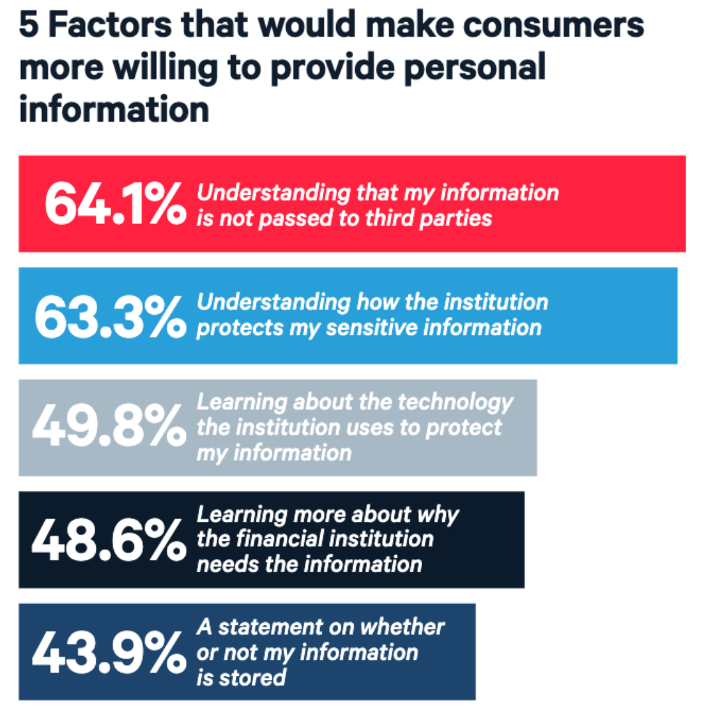 3. Messaging security efforts, especially relating to biometrics, will dramatically limit your abandonment. There's a reasonable expectation that customers need to provide all sorts of personal information when opening accounts. However, there's important implications to consider based on what kind of information an FI expects consumers to provide, especially if they're a first time user. Our study shows consumers reach a sticking point when it comes to providing more intimate personal information like biometrics; overall, 70% of people are less comfortable sharing their biometric information, despite the implied convenience and security that is often synonymous with biometric tools. Breaking that out: just 30% of consumers state that they feel comfortable registering their fingerprints, 24% are comfortable uploading selfies for facial recognition, and only 18% feel comfortable registering their voiceprints. 
Mitek recommendation: In order to combat new fraud advancements like synthetic identities and deepfakes, FIs have accelerated use of state-of-the-art biometric verification technology that provides more spoof-proof security and higher assurance. However convenient and secure this may be, the added friction should not be a companies only concern. What happens when an end-consumer will not cosign their biometrics for increased security protocols if they feel there's more risk than reward? This could ultimately mean increased abandonment rates. 
Fortunately, the study shows a large majority of consumers could be convinced to provide biometrics for security purposes by offering consumers assurance by explaining how their information will be used and stored. For example, 64% would be more comfortable providing personal information if they understood it would not be shared with third parties. This is especially important to older generations, 73% of whom say having this assurance will make them feel more comfortable.  
By incorporating explanations on consumer information in a seamless way, like why a selfie is needed as a pop-up with a hyperlink to more detailed company policies, an FI can balance their needs for exceptional UX and platform security. As a result, they'll be onboarding more good (and happy) consumers. 
Click here for more information on why having identity verification tech is important for your digital onboarding process