August 25, 2023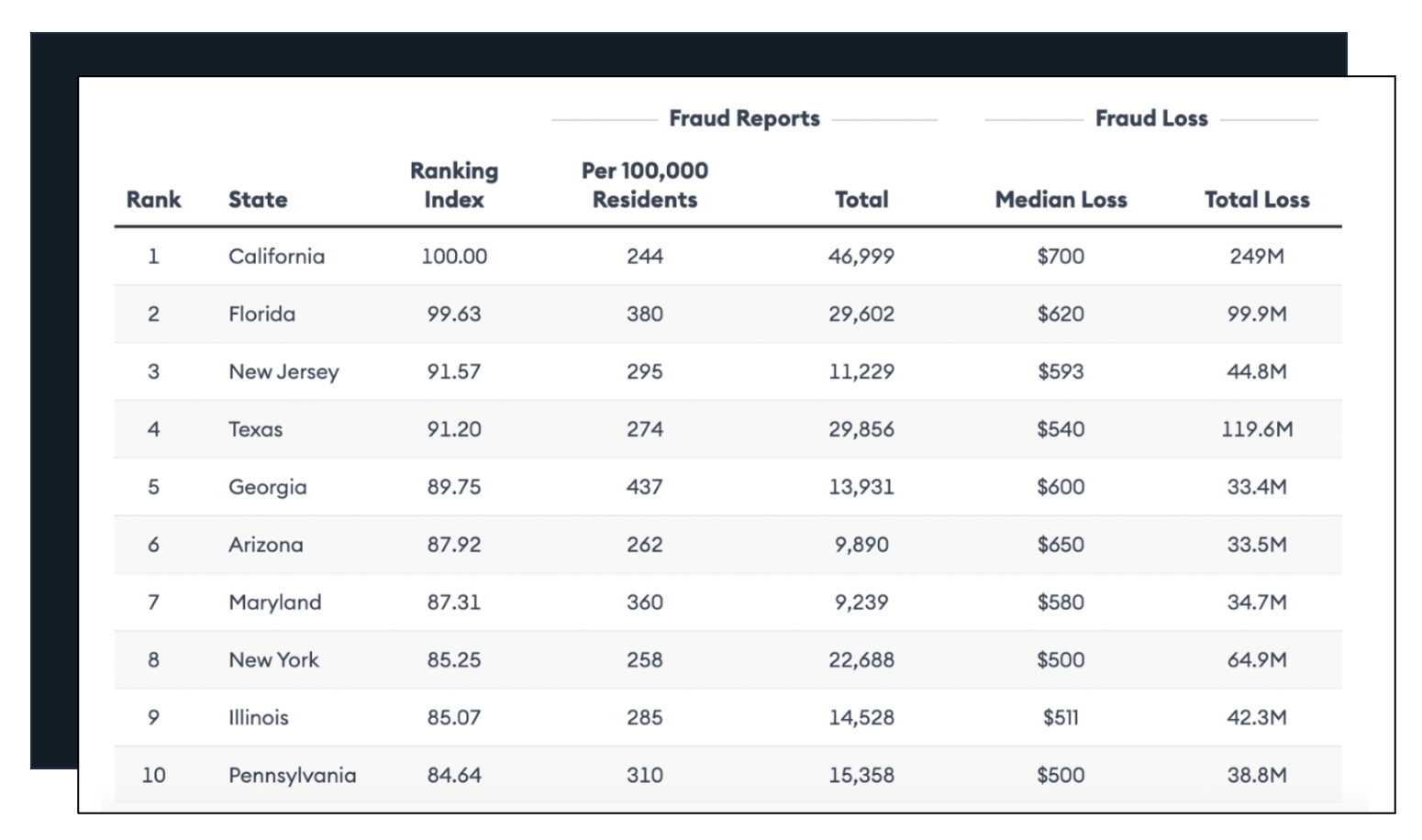 Georgia, a southern state known for its peaches, hospitality, and the birthplace of Coca-Cola, can now add another distinction to its renown: Georgia residents are the most likely in the country to be victims of scams, fraud and other financial crimes. With 437 incidents per 100,000 people, Georgia's per-capita fraud rate was higher than California, Florida and the rest of the 10 most-scammed states ranked in a study by Forbes Advisor. The study examined Federal Trade Commission data from all 50 states collected during the first quarter of 2023.  
Notably, credit cards ranked as the quarter's most common payment method for fraudulent activities, with more than 25,000 reported incidents and losses totaling $64.3 million. Overall card fraud losses in the US are projected to hit more than $13 billion in 2023, with an estimated $9.49 billion attributed to card not present (CNP) fraud. CNP fraud will make up an estimated 74% of card fraud by 2024 — an astonishing jump up from 57% pre-pandemic in 2019. 
Account takeover (ATO) fraud is another top fraud threat. It occurs when a fraudster gains access to the user's account by criminal means—such as stealing login credentials, buying them on the dark web, hacking, or other purposeful actions—and transfers money out of the account. In 2022, bank transfer or payment fraud cost financial services firms losses of $1.59 billion.  
The Forbes Advisor study found that bank transfers or payments accounted for the largest overall loss of all fraud payment types in Q1 2023: $407.1 million. This figure includes ATO fraud and other push-payment types such as payments made by victims directly to scammers.  
Download Mitek's new fraud prevention guide
Enterprise fraud defenses are no longer sufficient 
With eye-popping losses such as these, fraud has become a top issue of executive concern; a 2022 survey of financial industry executives found that more than half (58%) are concerned that no solution can match attackers' fast-improving sophistication. Nearly half (49%) of the respondents expressed worry that "any system would eventually be overwhelmed by the rising tide of attacks."  
Sentiment suggests that strengthening enterprise fraud defenses alone may be insufficient in thwarting ever more sophisticated attacks. Enterprise capabilities complemented by a modern user authentication strategy can reduce fraudsters' access to legitimate users' accounts, offering significant preemptive protection.  
Multimodal biometrics solve key fraud challenges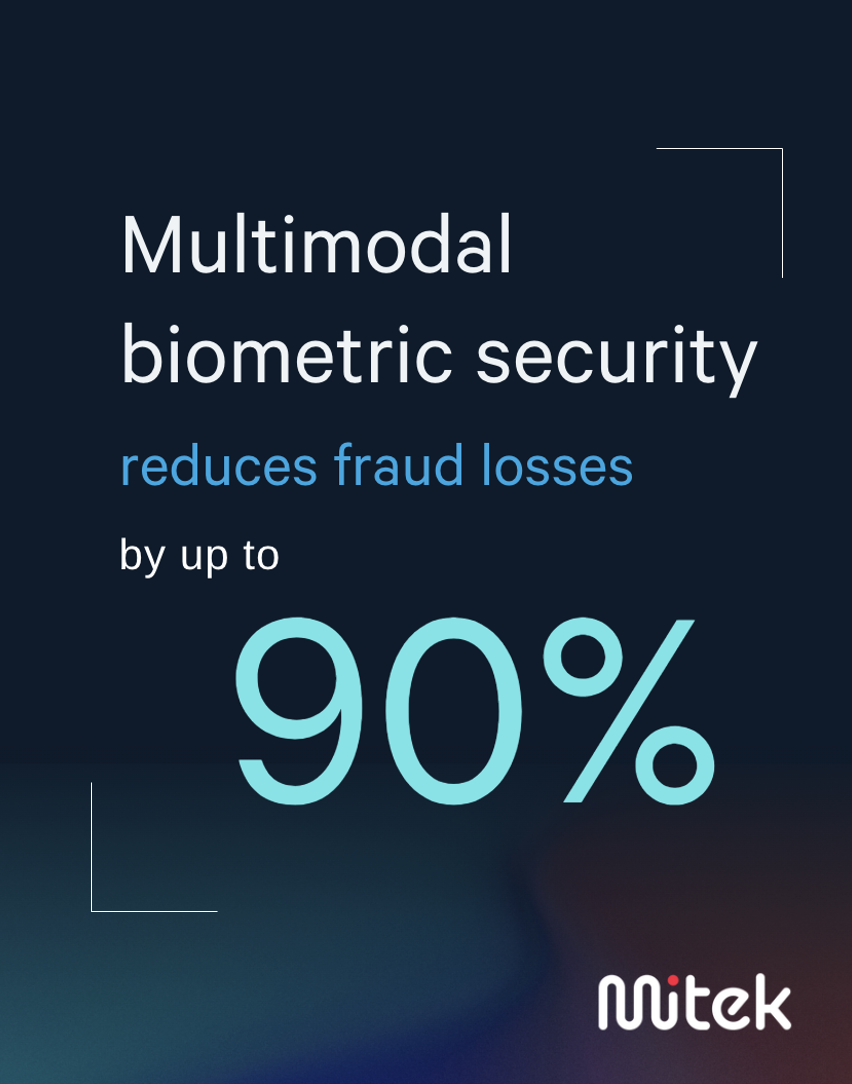 A strong identity verification (IDV) solution built on biometric recognition technology is a user authentication strategy that can stop fraudulent activity before it starts, delivering a secure, frictionless experience that builds customer trust while preventing crime and fraud. Multimodal biometric security (face and voice biometric authentication technology, coupled with liveness detection) makes stolen credentials and intercepted one-time passwords useless to criminals, and can reduce fraud losses by up to 90% or more. 
When deployed to fight fraud, modern multimodal biometrics can help address financial institutions' key challenges: 
Security and compliance: Rapidly growing adoption of face biometrics illustrate that associated security and privacy concerns are effectively addressed. Research conducted by Mitek and Javelin revealed that acceptance of biometrics is growing; 63% of consumers surveyed perceived facial recognition to be effective, and 50% perceived that voice recognition is an accepted security measure. Properly deployed, biometrics protect both financial institutions and customers compliantly, stamping out bias and in adherence to privacy regulations. Financial institutions in many parts of the world have successfully adopted modern multimodal biometrics solutions, offering proof that this sophisticated technology is compatible with a stringent regulatory environment. 
Customer experiences: Customer experience is an overarching concern in the fight against fraud; modern multimodal biometrics allow legitimate customers to transact in a frictionless manner while delivering the utmost in fraud protection. In a highly competitive environment, biometric technology can improve conversion rates without compromise, providing an experience that delights customers and builds preference.
Operational efficiencies:  Replacing passwords, KBAs, OTPs, and other outdated security measures with multimodal biometrics can have a profound impact on fraud operations, reducing the financial footprint of a sprawling cost center. In building trust through modern multimodal biometrics, financial services firms can also lower costs associated with customer service center calls, the management of false fraud alert processes and fraud case volumes.
Click here for your complimentary Multimodal Biometric Authentication Fraud Guide
Mitek's new fraud guide, Take control: Fight fraud more effectively with multimodal biometric authentication, shows how modern methods of authentication using multimodal biometrics protect both customers and financial services firms. Multimodal biometrics enable customers to transact safely and efficiently, concurrently defending banks against fraud losses in a way that complies with industry regulations and privacy concerns.
Learn how Mitek solutions help financial organizations combat fraud throughout the customer lifecycle; you can get your copy of the fraud guide here.