November 3, 2021
The economic and social impacts of COVID-19 have resulted in a rapid shift to a digital-first way of life as online activities and transactions become more accessible and convenient through online channels. The financial services sector is meeting customer demands for an optimised digital experience, but the unfortunate consequence is an increase in fraudsters exploiting this rapid digitalisation.
The need for financial institutions to protect both their business and customers at every stage of the digital journey is more critical now than ever. According to the Javelin 2021 Identity Fraud Study: Shifting Angles, the industry saw $56 billion in combined losses from identity fraud & identity fraud scams in 2020, accompanied by a significant increase in identity theft scams.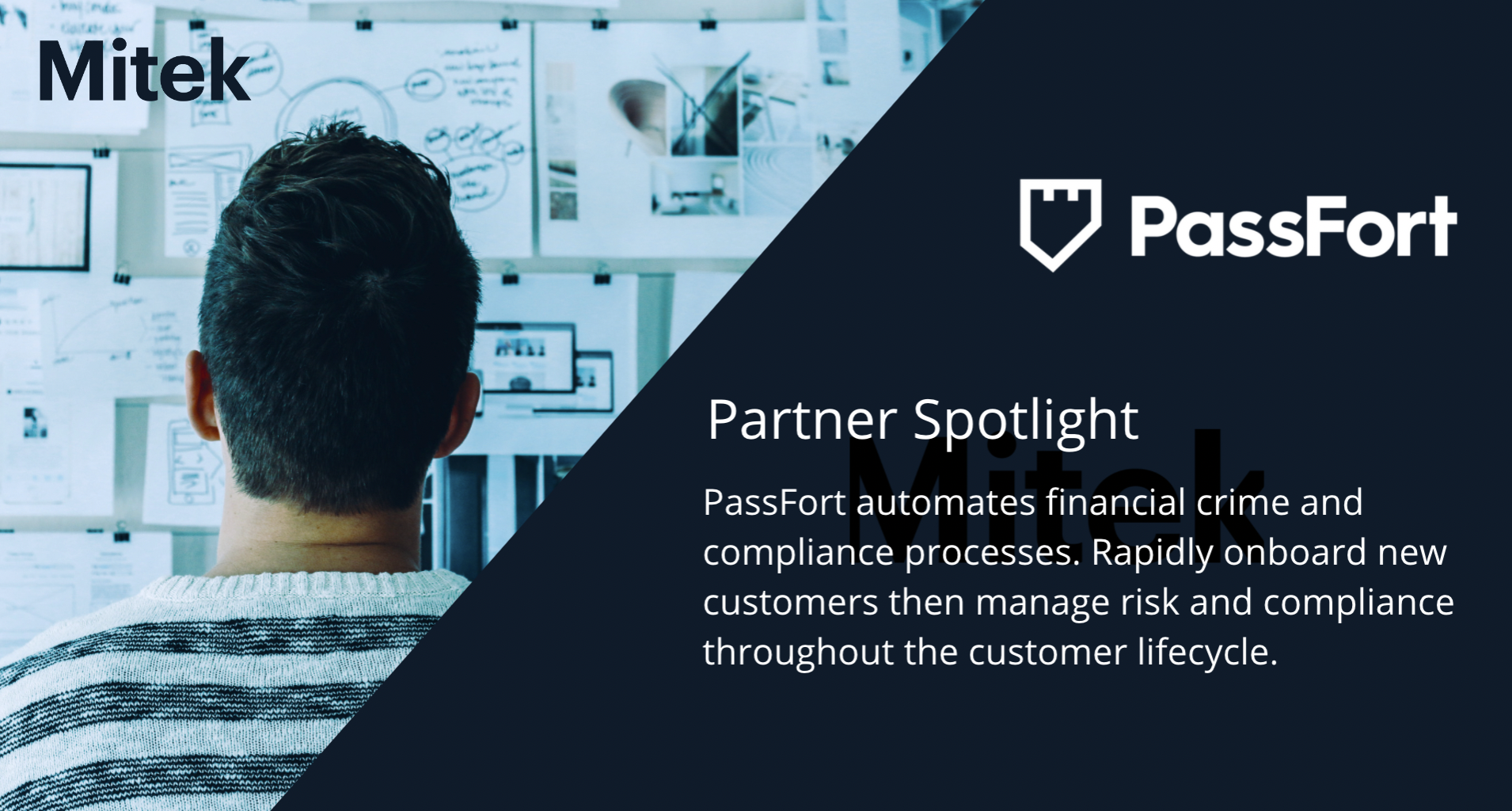 The current market environment is driving increasing demand for robust, affordable, and trusted providers of digital ID&V solutions.
Mitek and PassFort have partnered up to offer a solution that addresses this time-sensitive need. Mitek's Mobile Verify® can now be integrated via the PassFort API.
PassFort is a Software as a Service RegTech provider whose platform automates anti-financial crime and compliance processes, helping deliver compliance efficiency and enhanced customer experiences for financial institutions. PassFort's solutions are designed for the digital-first economy. They offer a low to no-code approach and agile framework that thrives on complexity, and solving digital ID&V challenges without being costly or difficult to implement.
Founded in 2015 by Donald Gillies and Henry Irish, PassFort is headquartered in London, UK and has supported more than 5 million customer onboarding journeys in 197 countries worldwide.
Mitek and PassFort's partnership means the strongest layer of cyber protection is now available for financial institutions
This solution combines advanced biometric technologies from two of the industry's leading providers, enabling businesses within the regulated financial services sector to rapidly onboard and reverify customers. The friction-reduced, optimised digital experiences are designed to minimise fraud risk throughout the entire customer lifecycle.
Biometrics are becoming essential for compliant and seamless digital onboarding experiences. But even the most unique identifiers (like your face) can be "faked", which is why the best digital verification solutions must include elements like liveness detection.
The combined Mitek and PassFort solution reduces time and costs associated with typical friction points and the constant threat of potential financial crime.
"We are thrilled to be launching Mitek's digital ID&V services to our customers, our organizations share a passion for constant innovation and customer success. Together we are focused on helping financial institutions prevent fraud and financial crime, while allowing good customers to be onboarded swiftly and efficiently," comments Donald Gillies, CEO and Co-founder of PassFort.
Interested in learning more about how the Mitek and PassFort partnership will benefit your business?
Learn about the innovative ways Mitek and our partners are securing and empowering digital commerce.