December 21, 2021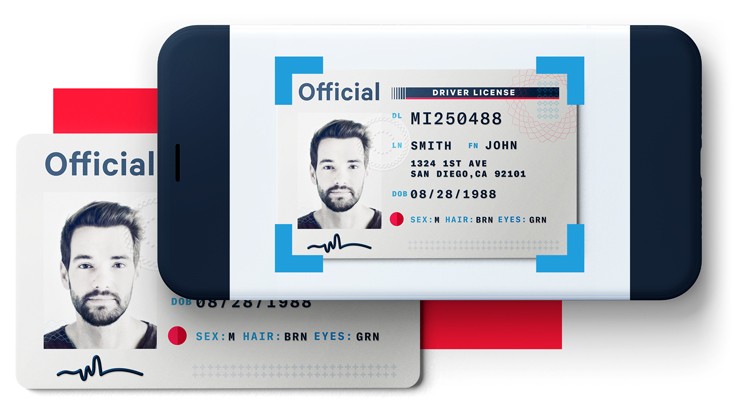 The need to match faces to photographic identification documents occurs across many domains, but most notably for financial transactions, where fraud (including different types of check fraud) is constantly on the rise. According to the Javelin 2021 Identity Fraud Study: Shifting Angles, there was $56 billion in combined losses from identity fraud & identity fraud scams in 2020. 
In a standard verification process, you're likely to be asked to take photos of your ID document and maybe a selfie. A big challenge with this process is that people aren't familiar with the photo specifications and quality required. This type of verification can often be a brand new experience for many, causing confusion or frustration when the image isn't captured during the first attempt. Image captures can easily result in poor quality images that are too dark, don't show the whole face or document, or are blurry. 
In this article, we'll take you through why image quality is so important when it comes to reducing your risk of fraud, and the best type of technology to improve the mobile verification process.
How mobile capture creates a better experience for everyone 
The key to successfully and safely conducting common financial transactions such as mobile check deposits and ID document verification is ensuring an easy way to capture high quality image integrity. This can be done through the use of mobile capture.
Mobile capture is when a mobile device is used to remotely acquire, access and process information. Personal information can be captured in the form of photos, document images, signatures, forms and any other formats.
With a significant portion of the workforce now working remotely, more employees need to be able to gather information while outside of their physical office location. Likewise, customers have reduced accessibility to in-person interactions so they also need to be able to provide and access information remotely.
Without mobile capture software, conducting even the simplest day-to-day activity like opening a new bank account takes much longer than needed. With people being encouraged to stay home throughout the pandemic, and banks reducing the number of physical locations and opening hours, more friction is created for everyone and the risk of lost or delayed information increases. 
Mitek's MiSnap solves mobile capture for business
To make the verification process less daunting for customers, being able to capture images that meet the quality requirements of the security system needs to be simple. Enabling customers to get it right the first time so they only need to go through verification once is critical for a good experience. The smoother the experience, the greater the likelihood customers will remain customers.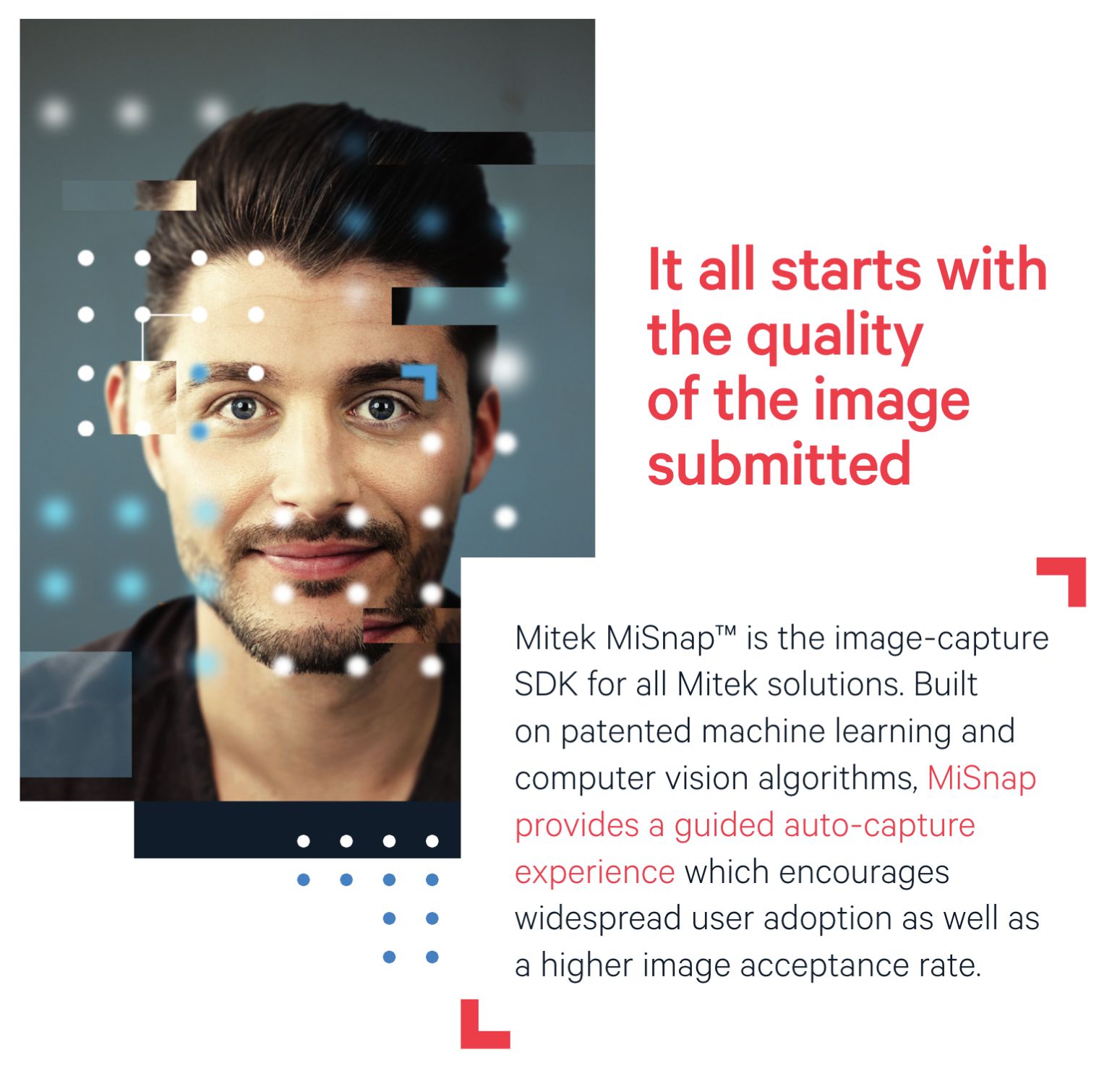 With MiSnap, Mitek's mobile capture tool, high image acceptance rates for common activities like authentication and onboarding enable customers to save a lot of time and frustration. "Images taken with MiSnap yield a 35 percent higher image acceptance rate compared to manual captures. This not only eliminates user frustration when an image is declined due to poor quality, but also improves the overall identity verification experience," says Sanjay Gupta, Vice President, Global Head of Products and Corporate Development at Mitek.
What is MiSnap technology?
MiSnap is Mitek's solution to an easy, smart capture experience across all digital platforms. It provides end-users with an intuitive interface that allows them to automatically capture a high-quality image of their identity document. Built on patented machine learning and computer vision algorithms, MiSnap provides instant feedback to the end user and guides them through the process.
A smartphone's camera or webcam is used to capture high-resolution images of supported documents. Key quality conditions such as glare, background, brightness, document alignment, and four corners are evaluated using real-time image analytics. This ensures optimal image quality for rapid and accurate authentication. If not of optimal quality, the tool issues interactive commands to the user to reach the level required. For example, users could be told to hold their document further away from the camera to capture the whole document.
This mobile capture tool streamlines the verification process on the first attempt, which means users are able to open an account, remotely deposit a cheque, or get approved for a credit card, mortgage or loan more seamlessly and much faster than ever before. 
Key MiSnap features that create a smoother ID verification experience
MiSnap provides the following benefits that enable a safer and quicker identity verification process for customers:
Built-in analytics: MiSnap evaluates image quality in real-time and communicates to users if adjustments need to be made. At the same time, the tool collects device metadata, completion success rates and key points of information that help businesses with reporting, ongoing app optimization, and image tampering detection algorithms
Glare detection: Detects the presence of glare and other image quality conditions in real-time
Capture orientation: Built-in flexibility for users to capture in either landscape or portrait orientation
Brandability: Full customization options to match the look and feel of the company brand
Wide device coverage: Complete accessibility support. All the UI controls are "accessibility" enabled and messages can automatically be read to users for guidance
Dynamic failover screens: Capture workflows are completely flexible to deliver the desired user journey
Background detection: Capability to capture documents on a variety of backgrounds such as low contrast or busy backgrounds
Secure SDK: Secure SDK that does not store any images or data on device. Screen capture is also disabled
Localization: Out-of-the-box messaging support for Spanish and French languages with ability to add or support any other language without any increase in the SDK footprint
Real-time guidance: Live commands are provided in order to help the user capture an optimal image. Examples are for the image to be moved closer to the camera, or moved if a glare is detected.
Modern architecture: Because MiSnap uses WebAssembly, it can perform at native speeds and is easy to integrate into customers' web-based apps and requires minimal footprint