April 30, 2021
Trust is the core of any successful business relationship. As the digital revolution continues to push businesses and financial industries towards digital-first services, gaining digital trust with consumers will be of utmost importance for survival. Consumers have a plethora of products and services to choose from, so establishing relationships based on digital trust will help increase brand appeal and loyalty.
We'll take you through the fundamental framework for building and maintaining digital trust with your customers and customers-to-be. In addition, you'll gain tips on how to nurture these relationships across all their digital interactions with your business.
 Download the new Digital Trust Report 2021 from 11:FS + Mitek 
What is digital trust?
Digital trust can be defined as the degree of certainty and confidence that a consumer has in a business when it comes to conducting safe and secure digital transactions. Therefore, businesses that have a proven track record of security and privacy protection in their processes and technology are more likely to experience higher levels of digital trust. 
Digital trust is a crucial part of our new virtual world. Yet, people and customers instinctively distrust, especially with frequent news of data hacks and fraud hitting the media. As a result, building trust in digital life is a nurturing process and requires constant upkeep. 
One of the biggest barriers to using digital financial services is the inherent lack of trust in the technology. Despite the fact that more transactions are completed digitally than ever before, Edelman's trust barometer shows that trust in the technology industry declined by 6 percentage points globally in 2020.
There are many reasons why consumers experience digital mistrust. Some consumers' lack of trust stems from their own negative experience with previous security breaches or digital banking. Others are simply concerned about the lack of human contact, while some are halted by the rise in fraud levels. In addition, as the world continues to shift towards digital, many customers are beginning to understand the importance and value of their personal data.
Taking additional steps to not only overcome this mistrust, but to nurture and nourish trust within the business relationship, can go a long way in acquiring and keeping customers long term.
The digital trust framework
The digital interaction trust-building framework, featured in the 11FS + Mitek Digital Trust Report 2021, includes four steps for helping your organization reinforce a successful digital customer-enterprise relationship: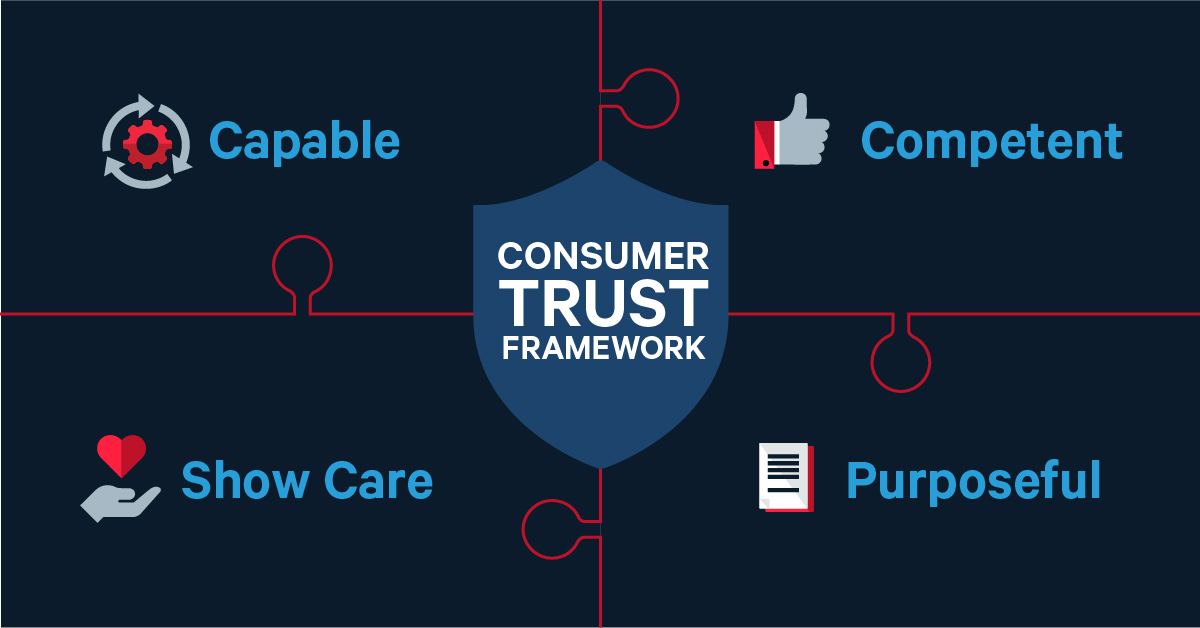 Capable – Prove to customers that you can deliver secure, reliable products and services through apps and websites. 
Competent – Be responsive and consistent in your digital touchpoints.
Caring – Prove to customers that you care about them, even when they can't meet a representative in person.
Purposeful – Know what your business stands for and make it clear to your customers.
The trust stack
The trust stack is a concept created by Rachel Botsman that outlines the three steps people take in forming trust. Specific to financial institutions, the three steps look like the following:
Developing trust in digital financial interactions – Customers have to trust the baseline concept of interacting with financial services providers through apps or websites.
Developing trust in a brand - Once they've achieved that trust, customers then need to gain trust in the specific brand.
Developing trust in a service – Finally, customers need to trust the service in which they are interacting with. This means trusting the specific app or website of that specific brand.
The trust stack shows that digital trust is not only a requirement at the business level, but needs to be built across the financial industry as a whole. 
What's the difference between nourishing vs nurturing digital trust?
Nurturing trust within business relationships means taking proactive steps to encourage the establishment and growth of trust. Organizations can do this through open communication and by providing increased transparency around their digital security and safety. Offering options and alternatives based on customers' levels of comfort, effective solutions to problems, and customer education can also go a long way in nurturing trust in the relationship.
Trust is nourished when you provide the necessary resources to ensure that the growth of your digital trust remains in good health. Depending on your industry and product, ways to promote good health can include providing a wider range of customer service options and a convenient and accessible app or website to create an easier user experience.
Adopting digital identity technology also goes a long way in helping maintain a positive customer journey while still maintaining necessary security precautions. In fact, consumers are willing and eager to accept some degree of friction during the onboarding process, according to Javelin Strategy and Research's 2021 Identity Fraud Study: Shifting Angles.
Nurturing and nourishing work symbiotically to build the digital trust that is necessary to establish and sustain your customer relationships.
Digital trust and safety for your business moving forward
Digital trust is fairly new to the business landscape and many enterprises are just starting to build the necessary level of trust with their customers. On the other hand, consumers are also just beginning to understand their needs and expectations, and what they are willing to accept or not expect. As a result, organizations need to be able to quickly adapt their digital touchpoints to the changing needs and concerns of discerning consumers.
Building lasting digital trust is a balancing act and needs to be handled tactfully by organizations. While digital trust is more important than ever for our futures and business success, it's important to remember that trust is extremely difficult to gain and very easy to lose. One poor customer experience can create a ripple effect that results in a loss of customer loyalty and sales. Consumer trust needs to be nurtured and nourished over time. That means companies need to be prepared to invest in digital trust services to consistently deliver services that meet consumer expectations in digital trust and security.