September 19, 2023
With consumers expecting instant solutions and an intuitive user journey, businesses are compelled to deliver immediate, clear and user-friendly digital onboarding experiences. A well-executed onboarding process not only ensures that users effortlessly integrate into the platform, product, or service, but it also sets the tone for the entire customer journey. By creating positive initial interactions, businesses can foster deeper trust, reduce early-stage friction and promote prolonged engagement to enhance the customer experience and even drive business growth. 
When onboarding is frustrating, customers leave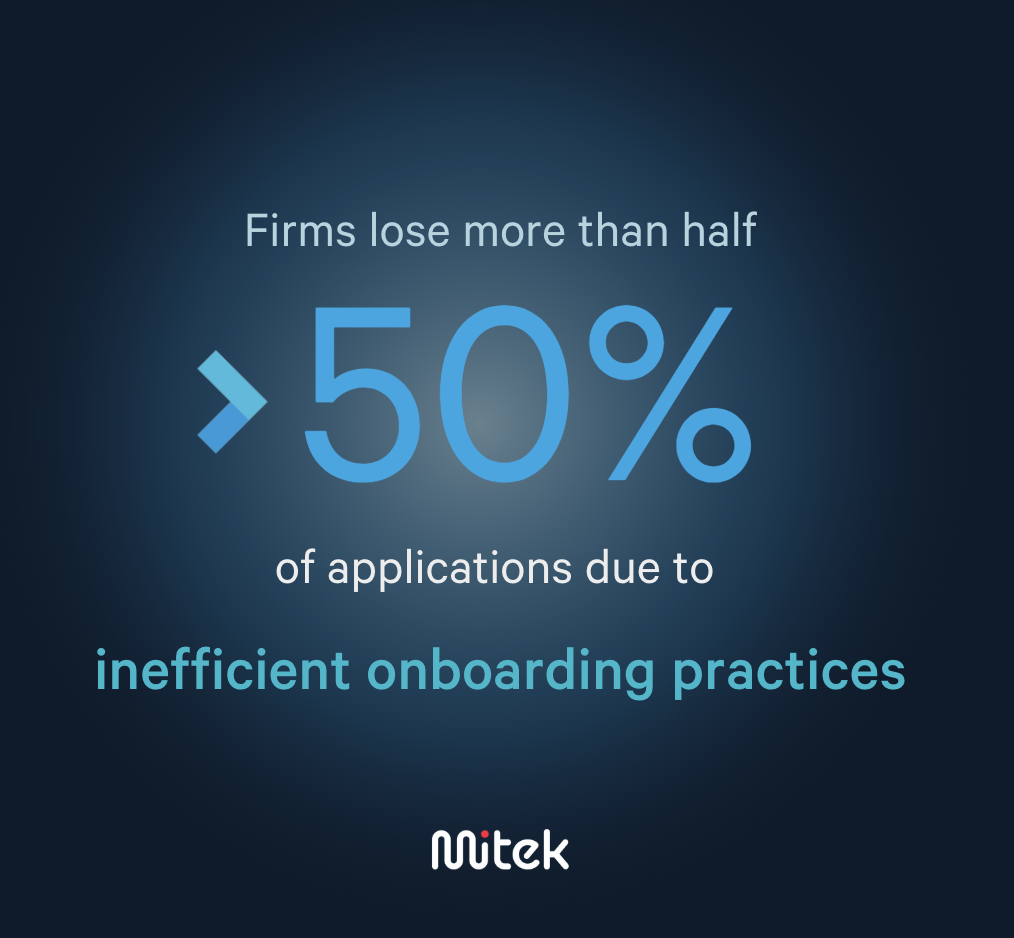 Digital onboarding is a crucial step in building enduring customer relationships. HooYu (a Mitek company) research highlights how firms lose more than half of applications due to inefficient onboarding practices, which only have a 74% success rate to begin with. 
NatWest, a major UK bank, illustrated these statistics in action. Their more traditional onboarding process included having customers upload identity documents or come to a physical branch, a multi-day journey involving multiple channels. The bank experienced a high rate of application abandonment. 
It's easy to see why a fully digital onboarding experience can solve some of the issues facing organizations in banking or any other industry. Compared to traditional onboarding methods, which might involve paperwork, physical presence, or a manual process, digital onboarding offers scalability, speed, and accessibility. It allows users to engage at their convenience, reduces the potential for human error, and can be constantly refined based on real-time feedback and analytics. Showing new customers from day one that their experience will be intuitive, well-guided and secure will help create the instant rapport necessary for a brand's staying power. 
Modern onboarding for the modern customer
High abandonment rates led NatWest to revamp its traditional onboarding process. After piloting the new process with 60,000 customers, the bank unveiled the new setup. Its banking platform now geolocates customers, authenticates ID documents, performs a biometrics-based identity verification and checks utility bills for address information, all in a matter of minutes. Creating a modern digital onboarding process has helped NatWest reduce its abandonment rate, as well as experience a significant drop in fraudulent applications. 
NatWest's onboarding changes highlight the key elements of a digital onboarding process, including:
Pre-onboarding prep.

During this phase, a business assesses customer needs and preferences and gathers the necessary information. A NatWest customer survey revealed clients' concern about financial fraud, so the bank knew its digital onboarding process had to be built to fight fraud. While onboarding, the app captured relevant information, such as ID documents.

User friendliness.

When guiding customers through sign-up, digital onboarding workflows must minimize friction at every turn. NatWest's geolocation feature likely enabled customers to quickly fill out forms requiring address information, for example. Collecting documentation via concise, readable, brief, simple and functional forms with clear feedback in the event of errors will keep customers' attention for the duration of onboarding. User friendliness must extend beyond forms to guidance and support options. 

Tailored experience.

Customers expect digital experiences to address their specific needs. Leveraging tools such as geolocation or personal information to offer localized deals or information will show customers that firms have their interests at heart. The NatWest team made sure to create a digital onboarding process that meets customers where they are, without requiring the time and energy necessary for analog activities like going to a physical branch. 
Best practices help alleviate onboarding pain points
Even when firms thoughtfully implement digital onboarding processes, challenges still emerge.  Customer onboarding can sometimes be impersonal, potentially alienating users who prefer human interaction. Technical glitches, concerns about data privacy and inadequate user support can also pose significant hurdles. Furthermore, without a well-designed user interface and experience, newcomers can easily become overwhelmed or frustrated, leading to drop-offs and diminished user engagement. 
To further eliminate any pain points, firms can design customer onboarding with the following best practices in mind. 
Secure identity verification helps firms prioritize security and compliance 
NatWest's new digital onboarding process asks most customers to perform liveness detection and present proof of identity for comparison. Some, depending on risk level, must also provide proof of address. The case study exemplifies what it means to add robust identity verification techniques in onboarding. 
Liveness detection is part of a popular form of verifying identities known as biometric authentication. Biometric identity verification technology uses biological signatures like thumbprint, eye scan or behavior patterns to identify who a customer is.
Biometrics are often one part of multi-factor authentication (MFA), where users provide two or more verification factors to gain access. This method combines something they know (password), something they have (a registered device) and something they are (biometric). Biometric authentication is one of many digital tools companies can use to shore up security and compliance while improving onboarding. 
Download a complimentary copy of Mitek's new fraud prevention guide:
Fight fraud more effectively with multimodal biometric authentication
Seamless integration and automation make onboarding a breeze
The beauty of NatWest's process is that it integrates with existing systems and platforms for a smooth onboarding flow. While customers may not realize it, digital customer onboarding flows are usually integrated with systems like CRMs or other enterprise resource platforms, usually via API, to ensure that, once onboarded, customers have a seamless experience with every interaction. 
Another backend efficacy solution is automation. For example, solutions with optical character recognition (OCR) can scan and process documents in real time, translating them into actionable data. By automating routine tasks, firms can eliminate manual data entry, minimize errors and expedite the onboarding process. 
Continuous improvements ensure the customer experience stays up to date
NatWest's final onboarding experience was successful because the team was careful to continuously iterate. The development team used agile methodology to provide daily updates and evaluate the onboarding process. Firms can continue this mindset of continuous improvement across the entire customer lifetime. 
Continuous improvement begins with understanding user needs and pain points. Soliciting feedback regularly and directly from customers can ensure it remains relevant and user-friendly.
In the same vein, tracking metrics like dropout rates, time taken to complete onboarding and customer satisfaction scores can help firms identify bottlenecks and areas of improvement. Regularly assessing these can lead to actionable insights and iterative refinements.
Finally, it's clear customers value security, especially when it comes to financial service onboarding. Conducting regular security audits and risk assessments can uncover vulnerabilities to fraud before they're exploited. Periodic risk assessments ensure that the onboarding process adheres to the latest security and compliance standards and continues to accurately separate potential fraudsters from actual customers.
Check out the 2023 Javelin KYC Solution Scorecard
When the onboarding gets tough, firms turn to trusted names 
Creating a modern, seamless and successful digital onboarding process is no easy feat. Like NatWest demonstrates, it takes perseverance and constant iteration. That's why many firms, like NatWest, choose to outsource development to a specialist, like Mitek. We have the technology to seamlessly integrate with your existing systems and the expertise to guide you through modern identity-verification initiatives, for onboarding and the entire customer lifecycle. 

For more about how Mitek can help you create a modern, seamless digital onboarding process, check out MiVIP, the ultimate identity verification platform.