August 10, 2022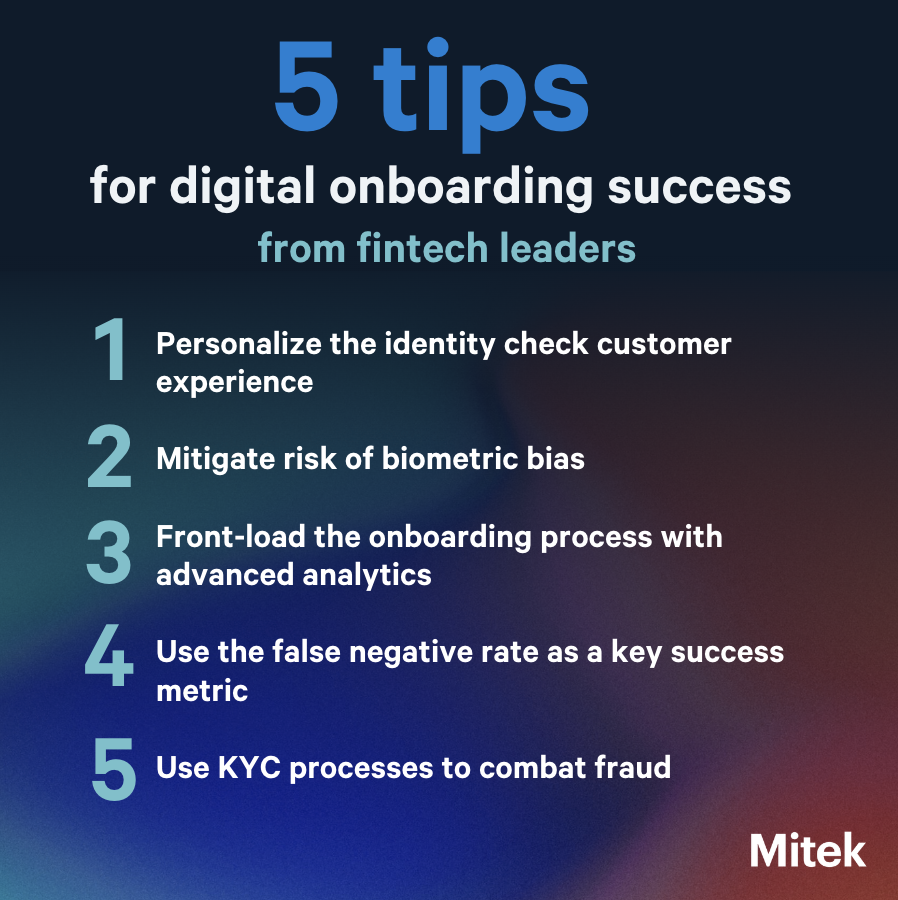 With more and more competitors entering the market, financial institutions wanting to stay ahead are focused on digital transformation initiatives. Goals include lowering operational costs while increasing customer (including new customer) engagement and loyalty and consumer protection against id theft. They are also driven by the growing demands of tech-savvy consumers, who expect seamless and flexible digital experiences across all touchpoints.
In particular, touchpoints throughout the fintech digital customer onboarding process are the most critical to get right because they create a customer's first impression of the organization. An easy, safe, and effective onboarding experience sets the tone for their willingness to commit to a long-lasting relationship with financial service providers.
Signicat's survey of 4,000 financial customers showed that effective onboarding is one of the most pivotal areas where service providers are failing. More than 39% of abandonments are due to a laborious and time-consuming process. In addition, customer expectations for digital services have shifted as a result of the pandemic, with 68% of respondents wanting to move to an entirely online onboarding process.
With similar findings, a research report from PIF, in association with Hooyu, reveals that inefficient onboarding processes cause organizations to lose more than half of their applications. The majority of those organizations see dropout early on in the onboarding process when the customer is asked to provide an ID document.
Creating a seamless, easy to navigate, and efficient digital onboarding with a high quality UX experience is critical for any Fintech company. In addition to acquiring and retaining customers, financial service providers also save on costs and reduce fraud, processing time, and paperwork. The need for a digital onboarding solution will only continue to grow as Fintech competition vies for customer's business.
​​From around the world, Mitek works with industry experts and thought leaders on sharing perspectives on identity, how it will evolve and what it means for businesses and customers. They share five tips on how to be the most successful when adopting a digital onboarding experience in the Fintech industry.
Tip #1: Personalize the identity check experience
Dan Slate is the Senior Director of Product at Wealthfront, where he leads product management for banking and investing products, including fraud and risk. He advises companies to use identity verification and biometric authentication technology to personalize the identity check experience based on the type of transaction and level of associated risk.  Offering modern technology options will be well received by customers considering 58% of consumers already believe that biometric authentication methods are faster and more convenient than alternatives.
For example, if a transaction involves the transfer of a large amount of money, apply higher levels of digital identity verification versus if a customer is conducting a low risk transaction, such as updating their contact information in their account profile. Conduct identity checks that align with the level of risk.
Tip #2: Mitigate risk of biometric bias
Tobi Olopade is Chief of Staff at Amount. With a background in finance and consulting, Tobi believes Fintech has the ability to democratize financial services—leading into a more inclusive, accessible financial system for all.
Biometric bias is a very real concern, but the way to mitigate risk of bias is to make sure the biometrics used are not being overweight. While biometrics are a critical component and valuable signal in the digital onboarding process, companies should develop a system that can use tons of other dynamic and contextual signals and personal info, such as device fingerprinting and even some legacy fraud prevention methods like KBA.
Tip #3: Front-load the digital onboarding process with advanced analytics
Andy Ding is the Product Manager at Upgrade, where he focuses on how data drives decisions in identity and how to use advanced analytics to stop fraudsters from getting in the door. The company offers affordable online personal loans, as well as a payment card tied to a personal line of credit.
To speed up the digital onboarding process, focus on two factors for success: How fast you can conduct digital identity verification to get the customer through the onboarding journey, and how fast you can identify fraudulent accounts being opened on your digital onboarding platform.
Customers are constantly getting offers from a variety of competitors so the ones who can get them through the digital onboarding solution journey the quickest and safest are the ones who will win them over. On the other side, if you allow users to pass through customer onboarding too quickly, you open the doors to increased levels of fraudulent activity.
To combat fraud for potential new customers, front-load the customer experience and onboarding process with advanced analytics to prevent them from getting through the door. At Upgrade, that includes the standard data needed under Know Your Customer requirements, as well as nonstandard data points such as email, IP address, device ID, account data, banking history, click patterns on websites, and other behavioral data that gets input into their credit risk and fraud detection models.
Meet more Fintech innovators talking about onboarding and IDV
Tip #4: Use the false negative rate as a key success metric
Ido Lustig served as Chief Risk Officer and GM International at BlueVine, an end-to-end banking platform built for small businesses, where he was responsible for BlueVine credit, fraud, and regulatory risk management.
They measure digital onboarding in banking success according to how many fake or stolen identities get into the system, referred to as the false negative rate. It essentially measures the fraud that was missed by the system, so the goal is to get to as close to zero as possible. This can be achieved by utilizing accurate risk analytics.
Tip #5: Use KYC processes to combat fraud
Eddie Ponce has served in a variety of leadership roles in the financial industry, most recently as the CCO of TradeZero Crypto, a free online crypto stock trading platform. Digital KYC processes, which include ones for KYC in crypto, help deter id theft and fraud by making virtual transactions seem more like their in-person counterparts. For example, some cryptocurrency exchanges ask for a password, a login code, and a selfie for identity verification purposes. That's the crypto exchange or wallet's way of asking if John is really John.
Adding KYC requirements adds multiple layers of upfront and behind the scenes verification to every stage of the onboarding process and transaction. Even if a scammer steals John Doe's crypto exchange login information, they will be hard-pressed to take a selfie that looks like John, pass a liveness test, provide multi-factor authentication, and/or meet device ID specificity unique to the authenticated customer.
 
How Mitek can help set you up for digital onboarding success
Having worked with hundreds of financial service providers around the world, Mitek's technological innovations help with digital transformation and create seamless, secure and effective digital onboarding experiences. Mitek's ID document verification engine is a cloud-based platform that utilizes computer vision, machine learning, and deep learning to provide online identification verification and authenticate government issued identity documents, like passports, ID cards and driver's licenses for mobile and desktop.
Learn more about how to streamline your Fintech digital onboarding process