August 24, 2022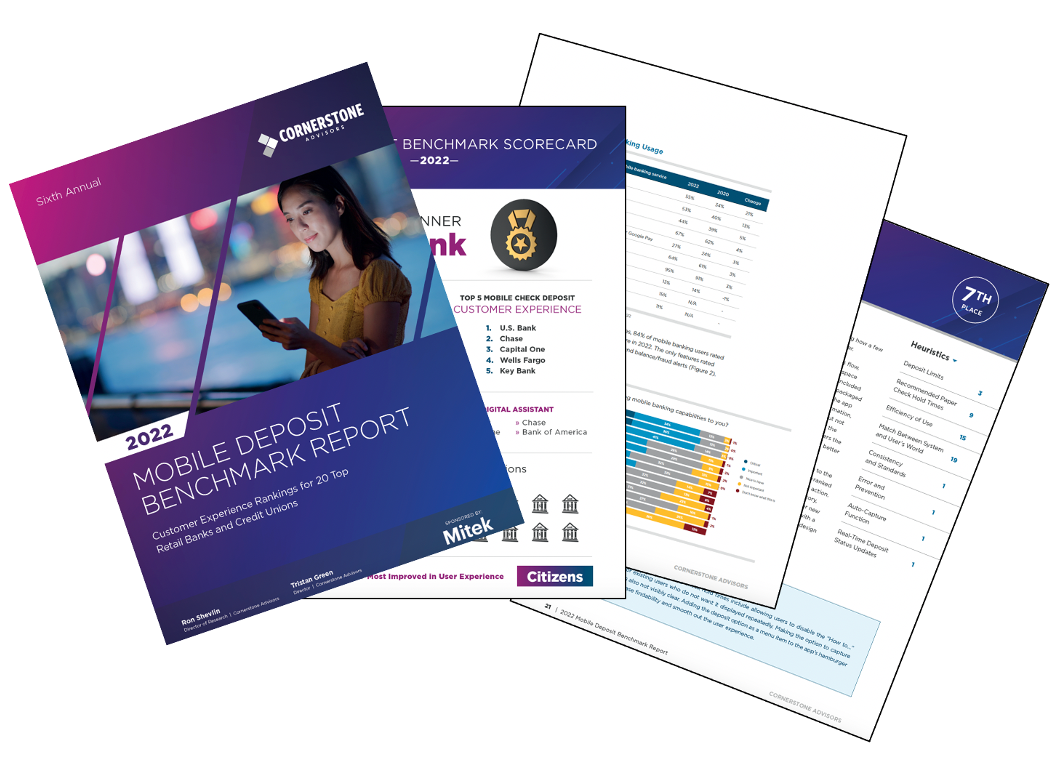 The consumer shift to digital channels as a result of Covid-19 seems to have forever changed the way people access financial products and services. Emerging from the pandemic after two and a half years, its becoming evident that the majority of people who have become used to interacting with their banks online aren't interested in returning to their old in-person, branch-based banking habits, especially when it comes to mobile deposit.
Results from recent research paint a clear picture about consumer behavior and expectations. According to a July 2022 survey of 1,010 U. S. consumers, conducted by Cornerstone Advisors in partnership with Mitek, nearly 88% of Americans accessed their checking account(s) using a smartphone or tablet during 2022.
Within that group, 53% of them deposited one or more checks using those devices compared to 43% in 2020. Despite the reopening of physical branch locations by most banks, the use of mobile banking continues to increase. In fact, the breadth of mobile banking services used by consumers increased in nearly all areas that Cornerstone surveyed.
Developing strong digital capabilities is no longer a nice-to-have for financial institutions. Its a must-have to survive in a world where digital-first competitors continue to enter the market.
So whats the best path forward in creating a digital experience that will drive customer acquisition, engagement, and loyalty?
Now in its sixth year, the Mobile Deposit Benchmark Report reveals the key areas related to mobile deposit being invested in by the top 20 performing financial institutions in the United States.
In this years rankings, user experience, banking policies set by the institutions, and new innovations (such as digital assistants built into mobile banking apps) are what separated the highest and lowest ranked financial institutions.
We'll take you through the highlights of the report in this article. But to get deeper insight into best practices for improving channel migration, customer satisfaction, and end-to-end mobile payments readiness, download and explore the full report or join us on  PST for the Mobile Deposit Benchmark Report Webinar with lead author, Ron Shevlin, Chief Research Officer at Cornerstone Advisors, and Michael Diamond, General Manager, SVP of Digital Banking at Mitek. 
 Register for the 2022 Mobile Deposit Benchmark Report Webinar 
Five mobile deposit trends for 2022
To stay competitive, banks need to develop strategies that put the consumer first. That means considering how to make their mobile banking offerings work better while engaging mobile customers to use more mobile banking products or services. The following areas are ripe for advancement within the larger digital payments landscape.
Top performing banks are constantly innovating their mobile deposit offering

U. S. Bank captured the top spot another year in a row because of their ability to deliver on the continual optimization of their mobile deposit experience. They made frequent and effective changes and innovations to their mobile deposit offering, including adding new unique features such as the ability to add personal notes to deposits and the ability to initiate mobile deposit with voice commands through its digital assistant.
 
Check deposit is the 2nd most important capability for mobile banking

Thirteen mobile banking capabilities were evaluated based on how critical respondents think they are to the mobile banking experience. The ability to deposit checks saw the greatest percentage increase, growing from 29% to 43%.
 
The user experience for mobile deposit still requires significant development for many financial institutions

Overall, the percentage of consumers that has experienced at least one problem or issue using their financial institutions mobile deposit offering has declined, albeit slightly, since 2020. However, almost half (49%) of consumers still experienced a problem, highlighting the three critical components of mobile deposit: technology, design, and policy.

The most frequent problem consumers had with mobile deposit was getting a clear picture of the check. This is a function of the technical quality of the mobile deposit tools used. The second biggest issue for consumers was how quickly the funds become available, which is based on the financial institution's policy. And the third biggest hurdle faced by users was not knowing if a deposit went through, which can be improved in the design of the user experience.
 
Incorporating digital assistants or chatbots into mobile banking apps increases consumer usage

Six out of ten respondents said that their most used mobile banking platform had a digital assistant or chatbot to help support customers with questions they may have. Consumers of financial institutions with a digital assistant rated both the mobile deposit experience and mobile banking experience overall higher than those who did not offer a digital assistant.

The ability to quickly get answers to questions consumers have about mobile deposit, such as limits, cutoff times, etc. , has an impact on the overall user experience and customer satisfaction.
 
Although confidence in platforms is high, fraud concerns still exist

Roughly a third of mobile banking users are very concerned with various types of mobile banking-related fraud, particularly when it comes to having personal information, account information, and login credentials stolen.

A level of concern will always exist when it comes to fraud threats, but the number of consumers who were very concerned has decreased across every fraud type since 2020. This suggests that financial institutions have done a fair job addressing security concerns through communication and education over the past few years.
As mobile deposit continues to increase in importance for consumers, banks and credit unions that are focused on user experience, competitive mobile deposit policies, and innovative capabilities such as digital assistants built into mobile banking apps, will gain heavier traction in the attracting and retaining customers and establishing them as market leaders.
Download the 2022 report to see how the top 20 retail banks rank