January 25, 2021
Have you visited your local bank branch or credit union during the pandemic?
Most of us haven't.
The fact is, pandemic-induced restrictions prompted consumers to use more mobile banking features than ever, including mobile check deposit.
Did you know that of the consumers using Mobile Deposit in 2020, 42% did so for the first time?
That's a big jump in first-time mobile deposit use.
Michael Diamond, Mitek SVP and General Manager of Digital Banking, recently said, "We are seeing the sort of increases in consumer use of mobile deposit that would have taken 10 years in normal times, but in pandemic times only took 10 months to achieve. And a huge percentage of these new users will not return to the old ways of depositing their checks even once the pandemic has passed. Higher percentages of customers using mobile deposit is the new normal.
Once consumers experience the safety and convenience of mobile deposit, there's no going back. Which makes this year's Mobile Deposit Benchmark Report more insightful than ever.
This is the fifth annual Mobile Deposit Benchmark Report by Cornerstone Advisors and CI&T. The 2021 report ranks the user experience (UX) for 20 top retail banks and credit unions through an independent, multi-faceted benchmarking process. In addition, 1,968 consumers were surveyed to understand their behaviors and opinions regarding mobile deposit.
The report offers financial institutions (FIs) a data-driven product roadmap for mobile deposit, based on competitive best practices and gaps in the marketplace. Here's what you want to keep in mind:   
Five consumer trends about mobile check deposit to look for in 2021:
85% of consumers using mobile deposit plan to continue doing this in 2021
70% of consumers prioritize mobile deposit in the list of banking capabilities they look for
Policy decisions, including hold times and deposit limits, continue to constrain use
Technology quality is the #2 issue for consumers, after policy decisions
Design and UX continue to dictate consumer satisfaction with mobile deposit and FIs
Consumers intend to use mobile deposit in record numbers
The pie chart says it all.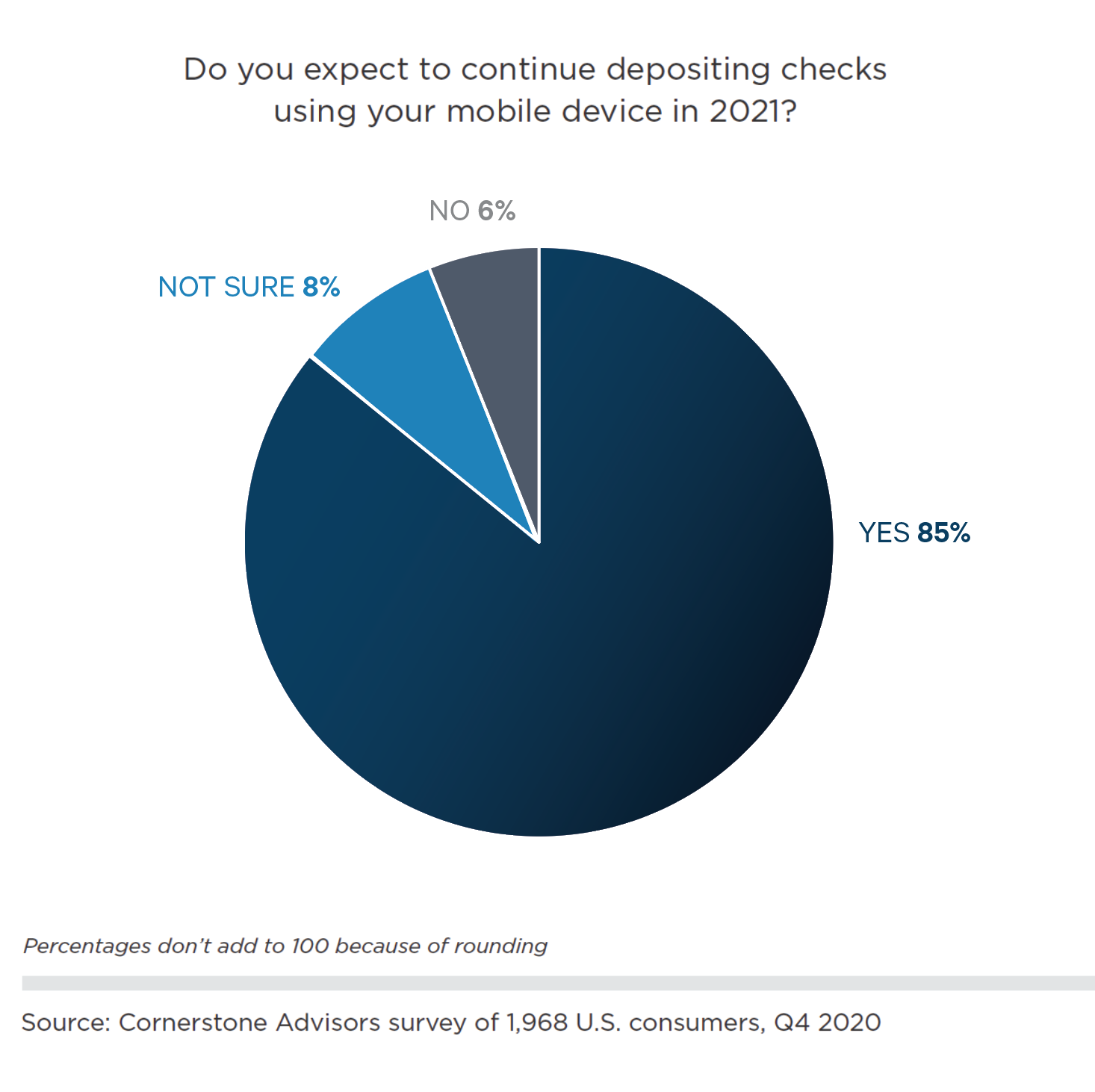 Consumers prioritize mobile deposit in mobile banking capabilities they look for
Last year, 52% of respondents ranked mobile check deposit as one of their most important mobile banking features. This year, 70% say it's an important or critical feature of their bank.
Consumer satisfaction with mobile banking credibility plays a significant role in overall satisfaction with financial institutions. Mobile check deposit is a critical capability, along with managing account balance and mobile banking fraud, turning cards on or off, or reporting a lost card. Other features, including person-to-person (P2P) payments, cardless ATM, and picture bill pay are also becoming higher priority.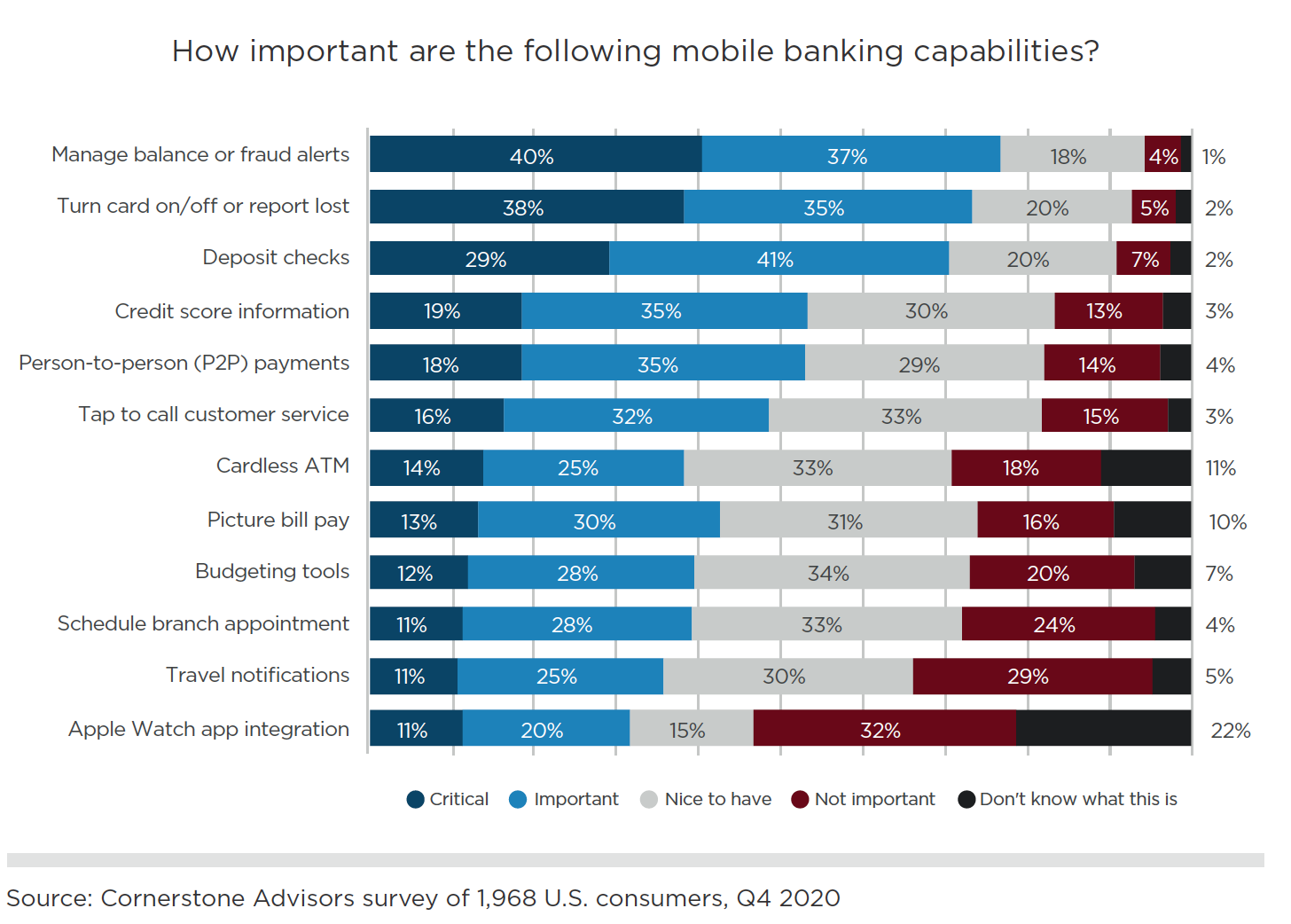 Policy decisions hinder mobile deposit use
The problems mobile deposit users experience provide clues to what banks and credit unions can do to get their customers and members to use mobile check deposit more frequently. Faster access to cash, better ease of use, and assurance checks are deposited would increase mobile deposit adoption for more than half of consumers surveyed.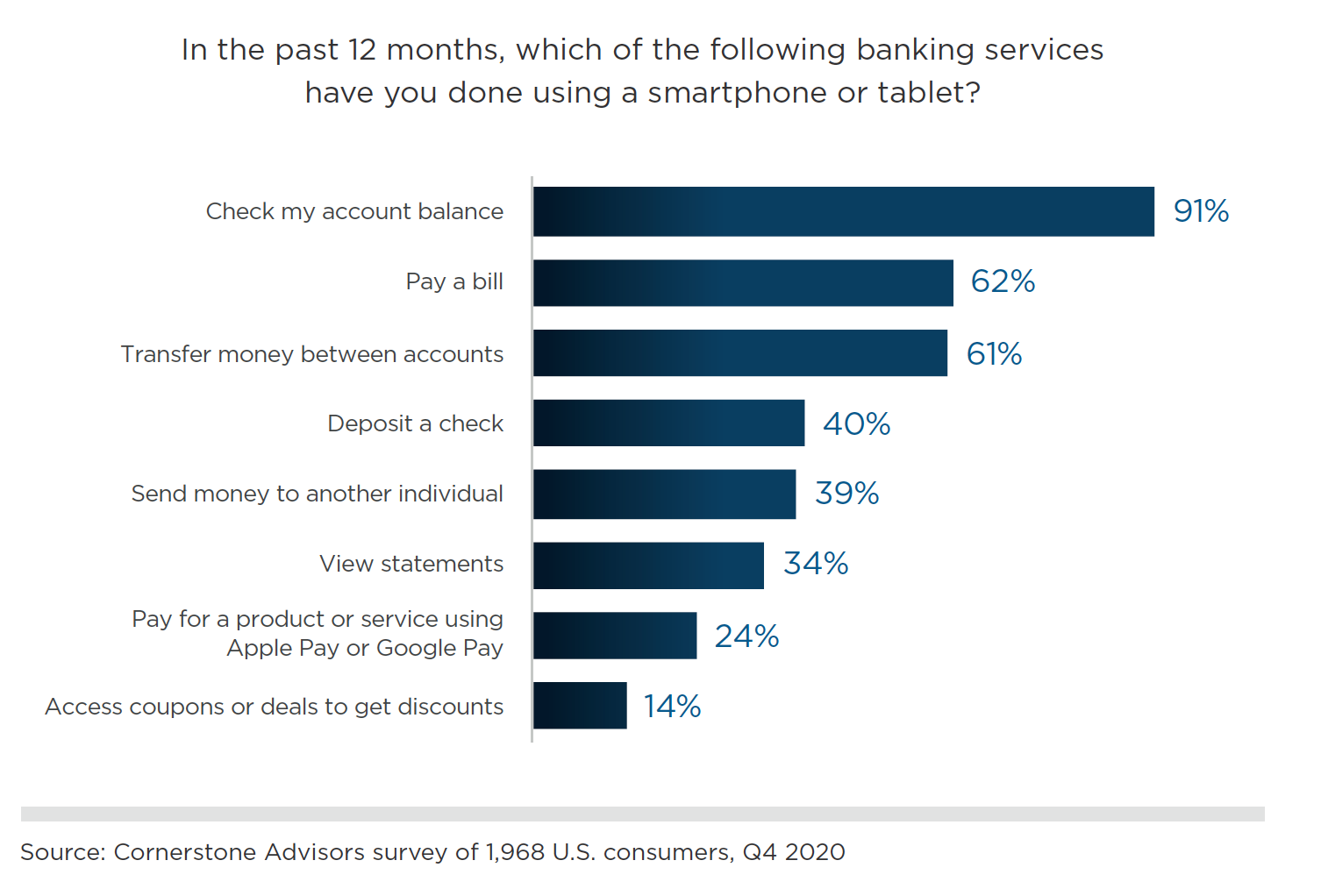 Technology drives mobile deposit competitive advantage    
For the first time in five years, all 20 financial institutions reviewed in the Mobile Deposit Benchmark Report offer auto-capture. Top ranking banks have instituted policy decisions regarding check-retention time and deposit limits, and security improvements are ongoing. The design of mobile deposit, making the process easily accessible, comprehensive, and secure, is a top priority for consumers.   
Technology drives superior mobile deposit customer experience and distinguishes top-performing banks from competitors. Financial institutions that recognize this will find themselves with higher percentages of mobile check deposit customers, greater market share, and a more loyal customer base.  
User experience: what your customers remember most
Banks and credit unions that fall short of good design and UX will eventually fall short on customers, too. The art of succinctly presenting technology and policy to the customer is an ongoing effort. A more streamlined process, intuitive navigation, crisp display, digestible blocks of text and copy lead to what consumers want, which is overwhelmingly ease of use. 
Meet the top ranking 2021 mobile check deposit experience leaders
Kudos to U.S. Bank, moving up from fourth spot last year to the number one spot, having been on the rise since their initial ranking five years ago. Their bold and clear app, which looks like a completely new product, has been enhanced by an impressive new mobile deposit feature in response to the Covid-19 pandemic.
Chase remains in the top three, continuing to recognize the importance of proper mobile deposit user experience. They offer a modern app with easy-to-read text and data that's fast to consume, helping them to maintain their number two ranking. 
Policy change is the reason Fifth Third broke into the top three, up seven spots from 2020 and the biggest year-over-year jump ever. This number three ranking was accomplished by cutting check hold time from 14 to 5 days and setting a personal deposit limit of $50,000.
This year's report offers a detailed review of the institutions rising in the rankings using innovative technology, policy updates, and design.  We look forward to sharing how the competitive landscape for mobile deposit continues to evolve.  
See how the top 20 retail banks and credit unions rank this year - download the report now