Modern KYC: orchestrating the future of identity verification
Delivering next-generation integrated identity, access management and fraud detection
Identity is evolving – take control
Have you ever checked in at a hotel and been asked to hand over your passport? Perhaps the clerk disappeared into an office with it and returned a few minutes later. Mildly panicked, questions like "Why do they need my passport?" and "What did they do with it?" may have flashed across your mind, along with the feeling that you had somehow voluntarily participated in violating your own privacy.  
That's all about to change. Welcome to modern KYC (know your customer) compliance, in which cumbersome and sometimes invasive processes – both digital and physical, as in the example above – can be replaced with intuitive user journeys. In this futuristic world, which is today upon us, consumers and businesses can enjoy:
Streamlined identity verification during KYC and know your business (KYB) compliance processes
Faster onboarding
Customized authentication for ongoing access, incorporating personalization and preference
Superior fraud detection through the seamless integration of these capabilities, alongside identity verification, into a wide range of processes.
What's going on? Liminal, a digital identity strategy firm, captures the zeitgeist of this moment:
Rising consumer UX [user experience] expectations, ongoing data breaches and global regulatory scrutiny are driving the need for privacy-preserving reusable digital identities, anchored increasingly on the needs of the consumer, and not the enterprise.1
What raises the bar is delivering advanced Modern KYC capabilities that unleash the potential of the intuitive experiences today's customers demand. An integrated identity verification, access management and fraud detection platform lets you take control with:
Powerful orchestration of a multitude of digital identity and fraud detection signals
Optimized user journeys that seamlessly and securely incorporate identity verification
Simplified configuration with low/no-code deployment options, in a platform accessed through a single application programming interface (API)
Modern KYC delivers holistic identity, fraud and compliance protection that offers more than fast time-to-value with best-in-class capabilities, but allows your organization to gain a competitive advantage by getting to know your customers faster and more securely.
1:  "The Market Opportunity for Reusable Identity and How to Get There," Liminal, February 2022.
The smoothest way to get to
know your customers.
Modern KYC: How identity verification is evolving
Identity verification marks the start of any financial business relationship. But for decades, it has been associated almost exclusively with KYC processes to identify and verify a client's identity when opening an account, and periodically over time.
KYC compliance directives remain essential. They are designed to protect financial institutions from fraud, corruption, money laundering and terrorist financing, conducted by customers under the guise of legitimate transactions.
KYB will be important, too. KYB is a rapidly emerging compliance requirement that protects financial institutions serving business customers. Its goal is to find the bad actors that frequently hide behind what appear to be legitimate enterprises to commit fraud, money laundering and other financial crimes, often at a massive scale. The global regulatory framework for KYB screening provides visibility into business structures to ensure that banks truly understand the organizations they are working with.
Modern KYC is next-level; it elevates KYC and KYB to additionally incorporate know your customer journey (KYCJ) insights. As consumers around the world gravitate toward "mobile only" lifestyles, the focal point of identity verification has shifted. It's not just about de-risking financial firms at relationship inception; Modern KYC integrates identity verification into customer journeys. When executed superbly, it's at the heart of satisfying, secure experiences for both consumer and business customers.
What does the market need? As all-digital business and mobile-only lifestyles drive more high-risk interactions online, identity proofing, fraud detection and authentication must seamlessly integrate into a vast expanse of flawless user experiences in sectors such as, but not limited to:
Financial services
Digital commerce
Government
Entertainment
Social media
Travel
Sharing economy
Healthcare
Mitek is the leader in helping organizations leverage Modern KYC to earn customer trust through rewarding experiences that are convenient, seamless and secure.
Orchestration is at the heart of Modern KYC
To handle surging identity verification requirements, the traditional KYC technology playbook – integrating multiple point solutions using software development kits (SDKs) – is no longer feasible. It requires specialized IT skills, incurs long time-to-value and needs frequent retooling after initial deployment, to accommodate ever-changing data sources and functional modules.
According to Gartner, next-generation approaches for identity verification, access management and fraud detection should:
Manage risk across the user journey by deploying an orchestration solution (either stand-alone or integrated into a broader solution) to manage the complex interplay between identity proofing, fraud detection and user authentication capabilities. A good orchestration solution will reduce the cost and complexity of multiple vendor integrations while enabling granular risk and trust assessment across a range of user events, and enabling contextualized user journeys.2
An orchestration platform can deliver on these expectations. KYC orchestration platforms automate many tasks together, simplifying identity verification processes with customizable workflows and plug-and-play signals, interpreting a complex interplay of data points.
Trust frameworks are emerging globally to support orchestration platforms and their end-user counterparts, typically encrypted identity tokens issued from a mobile device.
This is where Modern KYC is headed. Ambitious examples include the UK Digital Attributes and Trust Framework, which allows people to use and reuse their digital identities, easily sharing information with other people and organizations. Simply put:
The trust framework is a set of rules that different organisations agree to follow to deliver one or more of their services. This includes legislation, standards, guidance and rules.... By following these rules, all services and organisations using the trust framework can describe digital identities and attributes they've created in a consistent way. This should make it easier for organisations and users to complete interactions and transactions or share information with other trust framework participants.
In today's constantly changing -- and often-times exposed -- digital landscape, it is critical to partner with a customer-centric, established identity company that is involved globally in the trust framework at a grass roots level.  This alliance will yield greater results, streamline focus on a Modern KYC process, and ensure new technology like reusable identity can interoperate smoothly and securely within your organization.
2: "Market Guide for Identity Proofing and Affirmation," Akif Khan, Gartner, ID G00735371, March 2, 2022. Emphasis added. Reprinted with permission.
By 2025, a global standard for portable decentralized identities will emerge in the market to address business, personal, social, societal and identity-invisible use cases.
-Gartner
What's in your wallet? Soon, reusable identity technology
In the near future, users will own and manage their own digital identity, incorporating biometric information and validated government-issued identification documents. This information will be stored in a highly secure digital identity wallet downloaded by the user.
When a relying party such as bank, fintech, government agency, or private or public organization asks to verify a user's identity, the consumer or business customer will be able to use the wallet to share their verified identity, or certain elements of it based on the level of assurance required. Elements, called attributes in the digital identity world, can include:
Name, address or date of birth
Verification that someone is of legal age (18 or 21) without sharing name or date of birth
The number of children someone has
A bank account number
A health insurance policy number
Unemployment or public assistance verification information
The number of people that work for a company
The user will be able to share the desired attributes through encrypted one-time tokens generated by the digital wallet. Here, trust in reusable digital identities will be built in five critical ways:
No party shall have access to the identity data other than the app user.
All personal information will reside on the user's mobile device and be kept secure via private key encryption.
Only requested data will ever be shared.
The app user must consent to sharing any personal information which is requested.
Any digital ID must be verified to specific confidence levels set forth by government standards bodies as trust frameworks are rolled out worldwide. 
It's simply a better way. Reusable identity technology will catapult Modern KYC to deliver a new level of trust with fast, frictionless, password-free access, coupled with utmost security.
"In the near future, users will own and manage their own digital identity"
Radical simplicity:
world-class orchestration at your fingertips
Enterprises both large and small need integrated, multi-layered solutions to manage today's Modern KYC landscape. Any KYC solution must orchestrate a convergence of identity proofing, fraud detection, and identity verification (user authentication) requirements, and feed these functions' insatiable appetite for data.
One solution is the Mitek MiVIP platform, which brings radical simplicity to the complex and rapidly evolving business of integrated identity verification, access management, and fraud detection. Eliminating the need to connect multiple point solutions manually, the Mitek identity and compliance solution delivers an orchestration platform that joins enterprise infrastructure through a single API.

Mitek's MiVIP is built for change. It is bundled with high-performance modules for workflow configuration, user journey design, risk scoring and real-time monitoring including case management, which can be easily upgraded.
And then there's data. Mitek recognizes that compliance, fraud detection and access management rely on a constantly changing kaleidoscope of data sources. Structured and unstructured data in a variety of formats (CSV, JSON and more) can be easily plugged into (or swapped out of) the platform and orchestrated into any decisioning process. In doing so, Mitek offers the flexibility to keep up with new data sources and fast-changing fraud patterns.
Verified Identity Platform technology highlights
In any enterprise, time-to-value is a critical metric when considering technology investments. The Mitek MiVIP identity and compliance platform delivers remarkably fast time to value with attractive options for organizations of all sizes.
Low code/no code deployments can be up in running in days, not months, through MiVIP's point-and-click configuration and web services delivery. Smaller organizations such as community banks and fintechs can operate permanently with MiVIP solutions deployed in this way, while large institutions can use the low code/no code option to spin up pilot projects quickly.
Single-API integration allows the MiVIP platform to be easily connected with enterprise systems such as customer relationship management (CRM), compliance applications, and web portals. Large organizations can use the Mitek API to develop customized enterprise-class environments in parallel, as pilot projects operate, cutting over when complete for seamless coverage.
Digital transformation has remained elusive, until now. Mitek's platform architecture uniquely allows enterprises to gain a single view of the customer across the entire lifecycle, from onboarding and KYC through ongoing secure access, fraud protection and identity reaffirmation. MiVIP's integration of biometrics, data and document validation into a single orchestration platform can drive essential benefits including:
Deliver superior customer experiences
Meet rising compliance demands
Minimize fraud
Optimize workflows
Reduce costs and complexity
Deliver heart-stopping speed and a soul-satisfying experience
There's a growing need for Modern KYC solutions. High-risk financial activities such as cryptocurrency trading and mobile betting have exploded, making frequent identity reaffirmation prudent. Sanctions and anti-money laundering (AML) regulations, including involving KYC in crypto, can shift quickly and dramatically. An account holder's identity or beneficiary may change.
Fraud is everywhere. Even seemingly small requests such as change of address and mobile device rebinding can signal illicit activity, as can transaction inconsistencies or unusual financial behavior. Ideally, all of these events should trigger reverification.
Implementing an identity platform transforms verification from a nuisance into a competitive advantage, giving customers all the components of a soul-satisfying digital experience: heart-stoppingly fast, frictionless access coupled with utmost security.
With identity as the centerpiece of Modern KYC, there is no end to today's customer journeys. Choosing right identity and compliance platform allows organizations around the world to take identity verification far beyond traditional KYC and KYB, to reach new heights of customer delight.
Orchestrate. Optimize. Configure.
Recap: Three pillars you can count on for Modern KYC
There's never been more urgency around onboarding customers safely, effectively and quickly. If your organization wants control over customers' KYC experiences, the ideal solution. should include a Modern KYC platform that delivers: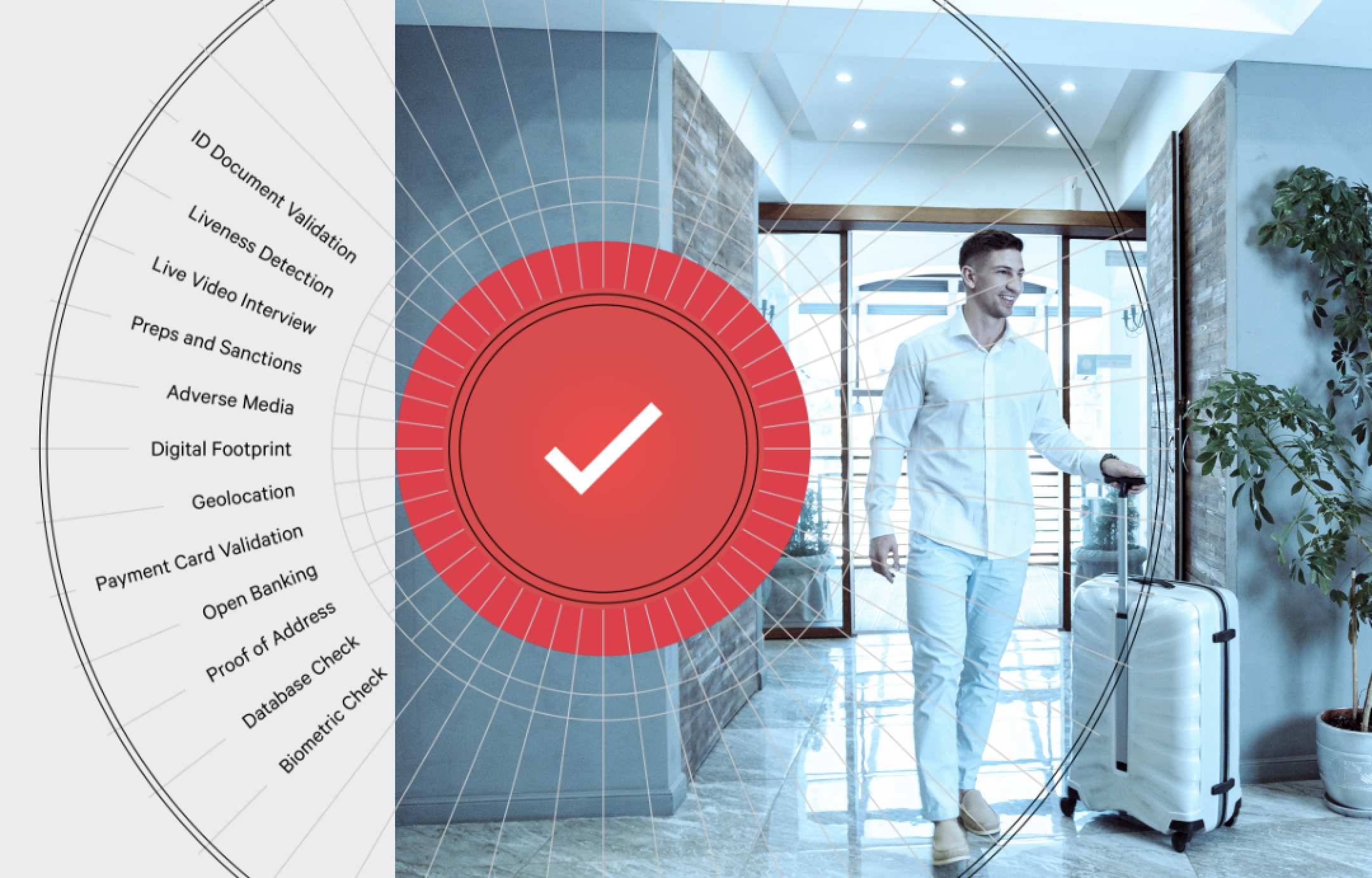 Powerful orchestration: Select a range of identity services and build multiple KYC processes. Customizable workflows allow you to meet any risk profile, and suit every customer, product or regulatory environment.
Optimized user journeys: Designed for end user convenience, ensuring success for onboarding journeys with a refined customer experience.
Journey guidance

Cleverly designed UI so multiple user personas can go at their own pace.

Real-time feedback

Dynamic support helping users get across the KYC finishing line.

User outreach tools

If customers click out, re-engage them to complete the journey.
Simplified configuration: engineered to minimize deployment effort. Change settings, configure flows or modify business rules without having to make costly code changes. Achieve fully white labeled deployment in hours, without external resources, no integration needed.
No-code tooling

Make IDV components accessible via a single API or our native SDKs.

Image capture

Increase image acceptance rates while lowering capture retries.

Document validation 

Enable accurate ID classification, plus the extraction of pertinent data.

Biometric verification 

Slash compliance costs and validate the identity of an ID owner.

Fraud checks (KYC) 

Establish data point checks authenticating user and business identities.
The next decade of trust in digital services will be forged through Modern KYC and the way organizations approach tailoring the lifecycle of identity and access management capabilities.  Igniting access to these services for all customers and your company's ability to deliver a safe, secure, and satisfying customer experience starts through building trust without compromise.