January 21, 2020
Every year, financial institutions (FIs) are seeing changes in how their customers manage their financial lives. FIs that want to succeed in the digital world tomorrow – need to demonstrate digital excellence and adoption – today. 
Four years ago, Mitek began sponsoring a benchmark study that ranks the Mobile Deposit customer experience across the largest FIs. The research and rankings for this year's 2020 Mobile Deposit Benchmark Report were conducted by CI&T again. 
According to their research this year… 
•    More than half (54%) of mobile banking customers used their mobile banking app's check deposit capability within the past year. 
•    Mobile has quickly prevailed as the most prevalent deposit method for younger generations (figure 1). 
Figure 1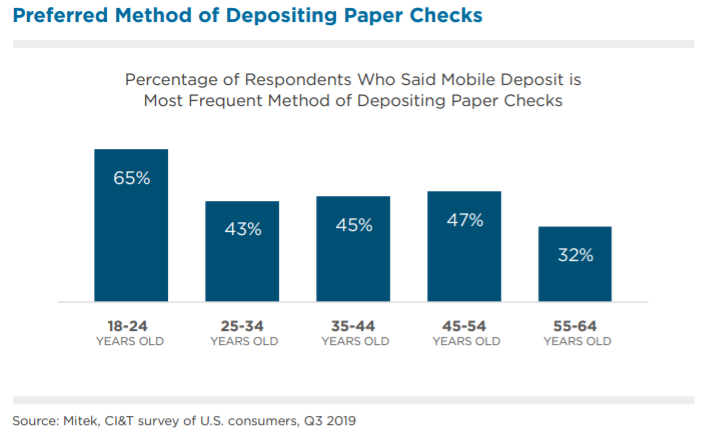 While mobile deposit has quickly become a key ranking factor and staple of digital banking consumers' satisfaction, there is still room for improvement. As we look ahead to 2020, every differentiator that sets FIs apart from their competition is crucial. Consumer adoption of mobile deposit isn't reliant only on an updated and simplified user experience, but also the policies. Financial institutions looking to drive more engagement with their mobile users might consider amending policies to boost user confidence. 
For this year's complete consumer insights and rankings, download the full 2020 Mobile Deposit Benchmark Report now.