May 15, 2023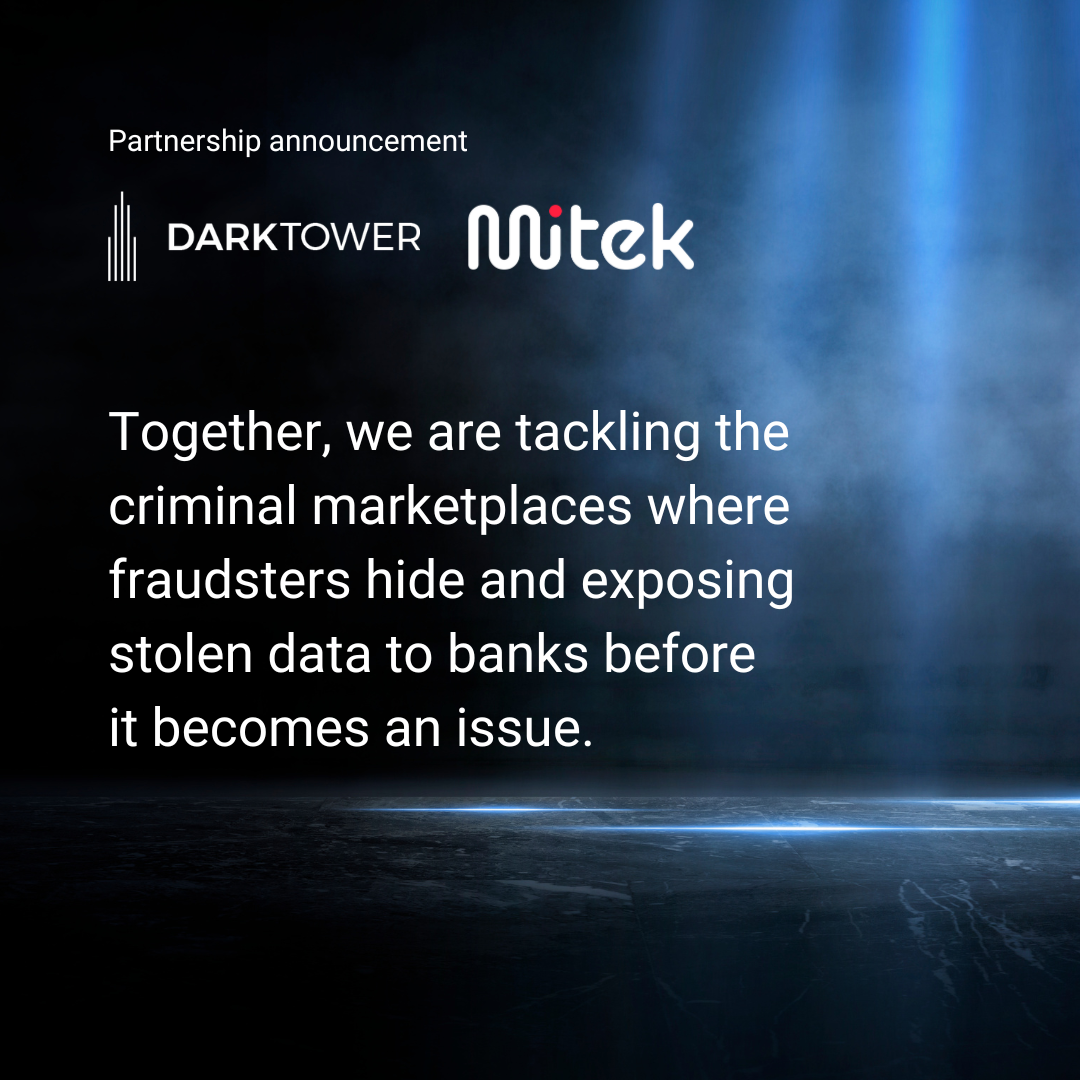 During the first quarter of 2023 alone, the Federal Trade Commission recorded nearly $2 billion in losses from more than 750,000 reports of fraud and identity theft. Fraud detection within financial institutions can be a manual and time-consuming process, requiring fraud analysts to work through stacks of images to look for corroborating information to confirm compromised accounts. 
Mitek and DarkTower have partnered to help financial institutions of all sizes proactively monitor, detect, and reduce their account fraud and identity theft cases, as well as manual processes. 
A connected experience
Customers using Mitek's Check Fraud Defender now have access to compromised account alerts and victim searches via our comprehensive MiVIP dashboard. This powerful integration into Check Fraud Defender enables institutions to automate image reviews to quickly identify and verify stolen account information.  
Using DarkTower's proprietary sourcing technology, Mitek's state-of-the-art image analysis extracts data from stolen checks, account screens, and identification documents sold on criminal channels. Mitek then delivers automated alerts for potentially compromised accounts, as well as creates an actionable database with easy-to-understand insights that help financial institutions stay ahead of fraudsters. Institutions can also conduct standalone searches for compromised profiles, combine the data with other sources, or use it as part of a holistic approach to fraud prevention and protection. 
With more than 2,500 stolen checks sold online for illicit use every week, financial institutions will benefit from the only tool currently available to proactively prevent the use of stolen documents originating from criminal marketplaces and similar channels. 
Learn more about Check Fraud Defender
Combating the rise of check fraud
Robust proactive monitoring tools allow financial institutions of all sizes to actively combat the rise of check fraud.  
"Financial institutions now have access to the tools to defend against the newest and most sophisticated attack methods used by those attempting fraud, including AI-generated documents, vishing attacks, and criminal marketplaces," said Michael Diamond, senior vice president and general manager of Mitek. "Integrating insights from DarkTower with our Check Fraud Defender service will enable financial institutions to move beyond passive defense to an active approach that reduces fraud losses and better protects their customers." 
Check Fraud Defender, automates fraud detection processes using AI and machine learning to score 18 check attributes, that go far beyond account data, to evaluate personal information and provide enhanced fraud protection. Check Fraud Defender reduces the number of checks routed for manual review and can help reduce risks associated with synthetic and account fraud, forged checks, and identity theft. in customer funds at risk. 
In an early test, Mitek and Dark Tower provided a large financial institution with extracted data and supporting images. A small sample of 200 images from a single criminal marketplace processed through Check Fraud Defender revealed more than $10 million in customer funds at risk. The $10 million at-risk funds represent only fraction of the potential value of documents available on these exchanges, with experts estimating thousands of similar active markets. The financial institution confirmed there was undetected fraud and that claims were paid related to the group of stolen checks. More than 90% of the claims showed additional counterfeit documents were distributed. This averaged $50,000 in losses per stolen document. 
With more than 35 years of experience in digital image capture, mobile deposits and identity solutions, Check Fraud Defender uses Mitek's patented AI and computer vision technology to detect forgeries and fraudulent checks with a high degree of accuracy.  
To learn more about Mitek's partnership with DarkTower, a new feature of Check Fraud Defender, click the button below: