September 15, 2022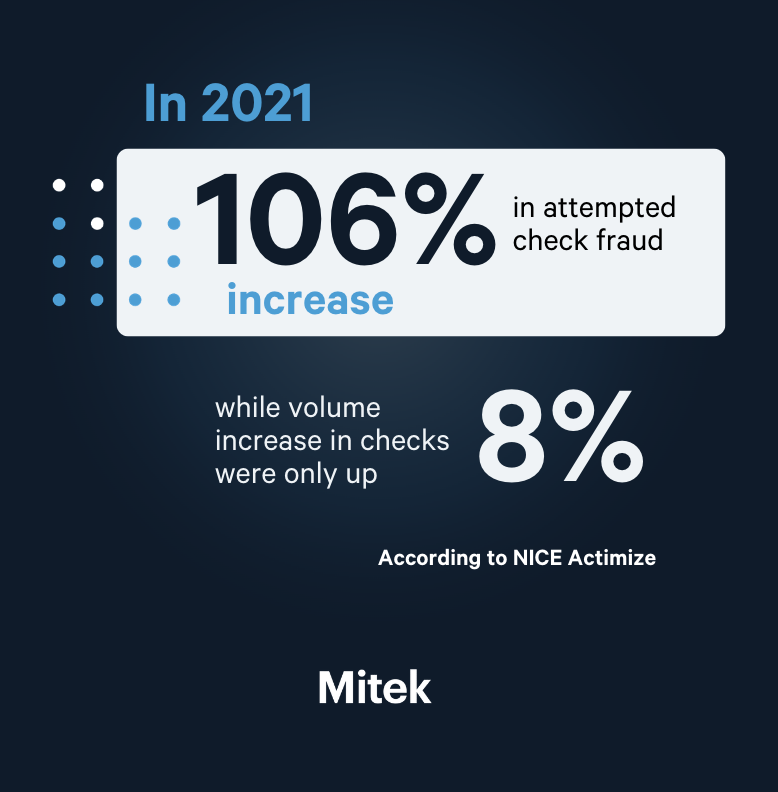 Check fraud continues to be a source of major concern for every financial institution across the nation as fraud rates steadily increase year over year. According to Jake Embry, a fraud expert with NICE Actimize, in 2021 "attempted check fraud has increased over 106%, while volume increases in checks are only up 8%."
With such large stakes at hand, the traditional, time-consuming way of manually reviewing checks to detect forgeries or reproductions isn't enough. Combined with consumers unwilling to wait days for their checks to clear, it's more critical than ever for financial institutions and banks to use automated check image processing systems for identity verification, fast-tracking check payments, and creating a more convenient customer experience.
But how reliable is automated check image processing software given how relatively new this technology is? In this article, we discuss what is automated check clearing and dive into the benefits of image-based cheque clearing systems.
How does automated image-based check processing work?
There are five steps in the automated check image process. First, the user takes a picture of the image on their mobile device and submits it. The system then uses OCR and ICR engines to identify the fields on the check and read the magnetic ink. The account drafting the check is identified so that the program knows which bank to contact to complete the transaction.
These engines extract information from the required fields and forward it to the straight-through-processing (STP) database. If STP validation fails, the user is directed to perform microtasks on a simplified interface to complete the process. Upon completion, the system then exports the results to the back-end system.
Why use an image-based check clearing system?
Check image analysis software is multifaceted in its capabilities, going beyond just being able to read magnetic printed characters. There are numerous advantages to using an image-based system over other check clearing methods. Below are a few notable benefits to using this type of model:
Ability to read handwritten characters - Automated clearing systems can read elements that are commonly written by hand, such as payee name and date.
Image enhancement - Banks do not have quality control over checks that are scanned using remote deposit capture (RDC) and smartphone cameras. Software can be used to clean up the original image quality by removing lines and speckles, lightening and darkening, and straightening the image.
Faster processing time - The overall check processing time using image-based technology is lower compared to systems like CHIPS and ACH. The system processes the uploaded check images and conducts automatic verification of check image data quality in real-time, delivering the verdict instantly.
Easy integration with current systems - Image-based check processing solutions have the ability to be integrated with existing databases and core banking systems without significant compatibility issues.
Increased fraud detection - Check analysis tools compare the information on the check to an account profile, making sure it hasn't been drafted fraudulently or is a fake photo. The recognition of even the smallest details can be achieved, such as subtle differences in the payor's name or address, positioning of the signature line, or even the size of the check.
Decreased operating costs - Using automated check and image processing tools to clear checks saves on operating costs by eliminating the need for human resources and third parties throughout the process. The technology is able to do all the processing on its own, including scanning checks, issuing payments, and aggregating data.
Increased regulatory compliance - With financial regulations constantly evolving, implementing a tool that can stay up-to-date with industry standards is essential to avoiding fines or worse. Modern image-based check processing solutions have a flexible architecture that allows you to adapt to international and local financial standards.
Advanced reporting - Advanced check clearing systems collect, report, and share data instantly across your systems and can be accessed at any time.
Demand for check image processing solutions is increasing
Bank fraud is a very complex business and can happen in many different ways, whether that's through online credit or debit card transactions or at a retail point-of-sale location. Fraud can take place at branch banks or via ATM machines, mobile and Internet banking, bank checks, wire transfers, and telephone call centers.
This gives all the more reason for any organization to improve the vulnerability of their fraud detection processes. AI and machine learning-based systems provide a much faster and more accurate and agile response than manual processes.
Fraudsters are figuring out ways to gain access to an increasing amount of customer data and using that data to run automated scripts. The schemes keep getting more subtle so banks need solutions that will supplement their existing systems to keep pace.
Mitek Check Fraud Defender is a top choice by financial institutions
One popular check image processing solution amongst financial institutions is Mitek's Check Fraud Defender. It's a full-stack solution with top-shelf visual check image comparison for deciphering the authenticity of a check and enabling instant check image verification.
It has the ability to detect forgeries such as forged signatures, legal and nominal amounts, and recipient names that are otherwise undetectable by other competing fraud detection tools. AI & machine learning models are used to score 18 check attributes and security features beyond account data to help with personal information and fraud protection, as well as identity theft.
Check Fraud Defender also analyzes checks deposited from all channels – mobile deposit, in-branch, and ATMs. It gets terminal status feedback from all participating banks, allowing the solution to check deposits tied to stolen checks, closed accounts, and duplicate deposits. With patented computer vision technology, financial institutions have a higher degree of confidence in check fraud detection, and protecting personal information.
Another great aspect of Mitek's check image processing solution is that it doesn't require a 'rip and replace' approach. Mitek's Check Fraud Defender service complements your existing fraud prevention processes and fraud management solutions. Overall, Mitek's check verification solution provides fully-fledged visual analysis and shared truth database, private cloud hosting, and advanced analysis to detect fraudulent checks.
Learn more about how Mitek's Check Fraud Defender can strengthen your organization's defense system against fraud