October 20, 2020
For many businesses, digital transformation was underway before COVID. But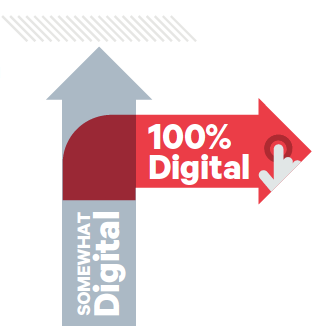 companies weren't prepared for the sheer volume of consumers that funneled into digital channels within the last 6-months. In quick succession following March shutdowns, businesses were burdened by an unprecedented amount of users: call centers were inundated with hours-long wait times, company websites were over-loaded with traffic and shut down, and regular services were put into flux. Though the initial goal was to get goods and money into people's hands quickly, this way of operating isn't sustainable - especially as fraudsters look for exploits within the current free-flow of access without friction. 
We all expected that digital and contactless channels would become the de facto mode in which people interact both socially and professionally. But there was no way to anticipate it would happen in a matter of weeks instead of decades. Today, it's clear that companies need to get ready to accept larger volumes of people heading online.  
Some organizations were more prepared than others to go fully digital.  Read on for research findings from early 2020 that can ground the industry on how much change its undergone over the last year, as well as the 4 important company traits consumers look for today!
Download your complimentary report "Moment of truth: why digital onboarding is make or break" for more information on this topic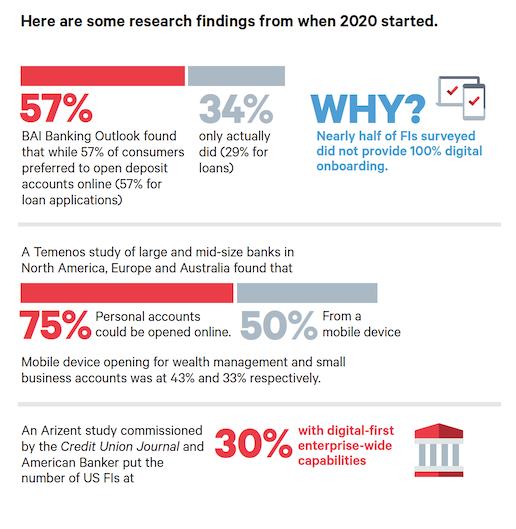 Data setting an industry benchmark for companies and consumers: While we won't see the full impact of 2020 in onboarding data and consumer trends until next year, early reports surveying the last 6 months now estimate that over 85% of businesses will include an identity proofing technology by 2022 in their digital onboarding process.   
But it's not just that business operations are changing abruptly—its consumers too. Fidelity National Information Services, which works with 50 of the world's largest banks, reported a 200% jump in new mobile banking registrations, and an 85% jump in mobile banking traffic, in early April alone. It's also that there may be no going back. Mitek and PYMNTS together found that customers were more likely to seek out and engage with the financial institutions digitally and contactless in the next 6 months rather than in-person  
The pandemic has shone a stark light on which companies actually have 100% digital onboarding and which do not. One estimate says that 40% of European consumers couldn't access financial services during the lockdown—presumably because branches were closed and digital onboarding was less than easy. 
Financial institutions and marketplace are stepping up their efforts. While digital onboarding has been on their roadmaps for years, it's now a top priority – for mindshare and capital expenditures. But of all the "moments of truth" in customer experience—when people decide if a company is for real about keeping the promises it makes— digital onboarding may be the most momentous. In a new report created by Mitek, we highlight some use cases of the best companies that have transformed the digital onboarding process. 
First impressions matter: 4 important company traits consumers look for in today's digital economy 
Extrapolating from the research, here's 4 important onboarding principles to consider in order to make a good first impression for consumers: 
COOL FACTOR - A big part of the enticement is cachet—a distinctive, engaging brand personality. That's essential for sales, of course, and it absolutely needs to carry over into onboarding and beyond. If not, what a letdown. Need an example? Award winning fintech ANNA Money has found a way to ensure their brand's tone and voice is embedded in every part of a customer's digital experience. Read here to learn how they do it. 
ME FACTOR - No company is so cool today it can succeed just by imposing its own style and values. Savvy consumers want to know the providers they choose see and value them. Onboarding must be fundamentally customer-centric, meaning not only convenient, but proceeding in a logical way from the customer's point of view. Ideally, a company is also providing useful information and the first bits of service to customers as they go through the process. One technology that can help is digital identity verification: a customer takes a picture of their identity document, and the technology can be used to auto-populate and auto-fill other parts of their application to make the process quicker.
TRUST FACTOR – some industry specialists say "when consumers interact with a company in the real-world, they have to break their trust for a customer to stop interacting with them. When consumers interact with a company online, the company has to earn their trust first." Most customers today want open and clear communication on how security is being implemented. Suffice to say, consumers interacting with companies online are savvy, and they care about how their personal identifying information is being used and stored. Recent data from PYMNTS show that companies who properly explain their security efforts can lead to more engagement (up to 60%) with a consumer providing more sensitive information required to verify they are real.  
FLOW FACTOR - Successful onboarding has momentum. Everything that happens is part of the flow, like a conversation. So even though onboarding generally comprises multiple steps and security checks performed by different software components, it should feel to customers like one thing just naturally leads to another in an easy, fluid sequence. For example, some banks in the UK called "Neobanks" do the entire application set-up, from identity verification to inputting address, right in a chat stream. 
Finally, It's important that a company can have the adequate technology that's completely customizable in order to fit a business model, but also retain the brand personality and characteristics customers want today. In other words, you need to be able to freely design your own approach to onboarding. 
Download the report "Moment of truth: why digital onboarding is a make or break event for today's companies" for additional company and customer takeaways as well as 3 use cases from the best in the business