February 12, 2019
Create meaningful digital relationships for consumers based on trust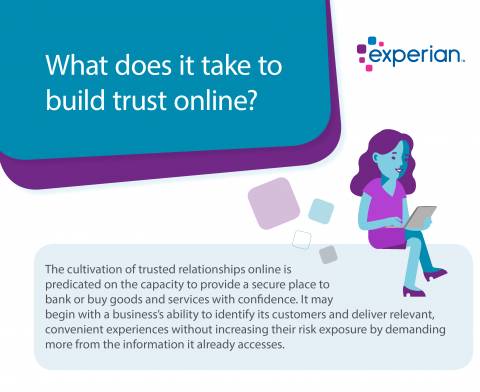 Methods of fraud and online deception are maturing right along with our digital economy and the seamless transaction process. Business stakeholders are beginning to understand that creating meaningful and trustworthy relationships between their customers and digital platforms can augment customer acquisition, build brand loyalty and improve a business' reputation.
The debate about the tradeoff between security and convenience is becoming an old one. Customers want convenience and immediacy — but they also want to know that their data is safe and the online transactions they make are secure. In fact, Experian's recent 2019 Global Identity Fraud report explores what key factors matter most to consumers for gaining trust and confidence in a growing digital landscape
72% said they would be willing to go through a more thorough enrollment process at account opening if it meant easier access to their accounts later
... yet at the same time ...
74% of consumers cited security as the most important aspect of their online experience
... illustrating the equivalent value of convenience and security. Today's savvy consumers are shifting their priorities more towards the center of the security and expediency x and y axes. They still want on-demand access, immediate check-outs and relevant recommendations — but with as little of the risk that comes with this type of expediency as possible. Trust is integral to the success of businesses and financial institutions, today
66% of consumers worldwide say that they have confidence in a method that provides some visible signs of security (and friction)
66% of consumers think that seamless access to their account within the banking digital platform is the most important feature
Build trust and customer loyalty will follow
Between account-takeover fraud, fake news, catfishing and other online deceptions, crimes and social media mishaps, users are more wary, cynical and skeptical than ever. The amount of confidence a consumer can have in a business' digital channel can mean gaining or missing out on potential transactions and making or breaking a brand's reputation — especially when you also consider the power of online reviews. Consumers hold companies accountable and expect online businesses to conveniently verify ids online.
What's the right balance between security and convenience?
Though security and convenience have, in the past, been at odds with each other, we understand the need to provide a secure place for your customers to bank or do business. It sounds like a tall order, but an optimal compromise between security and expediency -- the online experience that customers expect -- can be reached with the latest sophisticated technology and authentication methods.
46% of customers are more confident in banks who use physical biometrics to verify their identities 
74% of consumers indicated greater confidence in a business that uses physical biometrics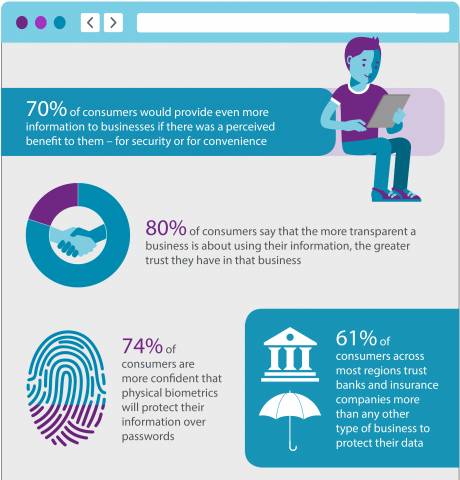 Online trust has become vital for businesses and brands to retain today's astute customer. Implementing a digital identity verification solution that provides a smooth and intuitive user experience with beyond-human levels of accuracy can help to establish the confidence and experience that customers truly value. Mitek's online identity verification solution, Mobile Verify®, employs an easy-to-use combination of superb image-capture technology, AI machine-learning techniques and biometric face comparison to return quick and conclusive results.
Let us help you build consumer confidence and get an edge on your competition.
Learn more about Mobile Verify
---
References
1. 2019 Global Identity and Fraud Report. Experian. January 2018. (http://images.go.experian.com/Web/ExperianInformationSolutionsInc/%7Bc7304d2b-b324-45b1-be03-c36d54be3d1b%7D_2019_Global_Identity_and_Fraud_Report_FINAL.pdf)